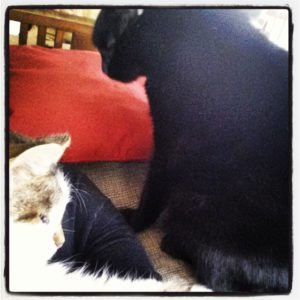 Marlowe is very sweet and tractable, but not always the brightest cat. At the age of 15, he still has no figured out that you push doors open from one side and pull from the other. My other cats have all figured out that if you hook a claw under the door, you can pull it open.
So, this morning, Marlowe followed me into the bathroom, as he does. And the door shut, but didn't latch behind him. He did his usual routine of standing on his hand legs and pawing at it to get it to open, which only makes it thump repeatedly against the frame.
And then the door magically opened.
Sadie, standing on the other side, pushed the door open and let him out. So… okay. Fair enough, Marlowe. When you bat the door long enough, it WILL open.
Sadie, by the way, is starting to reach for the doorknobs. It's a good thing she doesn't have opposable thumbs, is all I have to say.