Since Valour and Vanity is coming out on April 29th, I have a ton of travel scheduled for the next two months.
April
Chicago, IL
Friday, April 25 – Sunday, April 27
Chicago Comic & Entertainment Expo
http://www.c2e2.com/
Mary's schedule
May
I'm particularly excited because I'll be touring with Marie Brennan whose A Natural History of Dragons I've been raving about. Her new book, The Tropic of Serpents, is to die for. We'll be travelling with period costumes, a tiny puppet show, and dragon fossils. You'll come see us, right?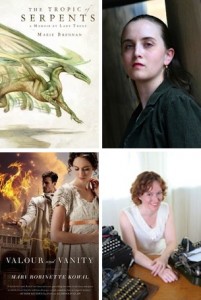 Chicago, IL
Thursday, May 1, 6:00 p.m.
DePaul University
Seattle, WA
Friday, May 2, 7:00 p.m.
University Bookstore
Portland, OR
Saturday, May 3, 2:00 p.m.
Powell's Books at Cedar Hill Crossing
http://www.powells.com/calendar/
Salem, OR
Sunday, May 4, 3:00 p.m.
Book Bin
http://bookbin.com/event-calendars/
Houston, TX
Tuesday, May 6, 6:30 p.m.
Murder by the Book
http://www.murderbooks.com/event/mary-robinette-kowal
Salt Lake City, UT
Thursday, May 8, 6:00 p.m.
Weller Book Works
https://www.wellerbookworks.com/events/2014/5/
San Diego, CA
Saturday, May 10, 2:00 p.m.
Mysterious Galaxy (Part of the Mysterious Galaxy 21st Birthday Bash!)
http://www.mystgalaxy.com/event/MG-SD-21st-Birhday-Bash-051014
San Francisco, CA
Sunday, May 11, 3:00 p.m.
Borderlands Books
http://www.borderlands-books.com/about_events.html
And then you can find me solo a couple of times as well.
Raleigh, NC
Monday, May 12, 7:30 p.m.
Quail Ridge Books
http://www.quailridgebooks.com/event/mary-robinette-kowal-valour-and-vanity
New Orleans, LA
Thursday, May 15 – Sunday, May 18
RT Booklovers Convention
https://www.rtconvention.com/
Madison, WI
Friday, May 23 – Monday, May 26
WisCon
http://www.wiscon.info/