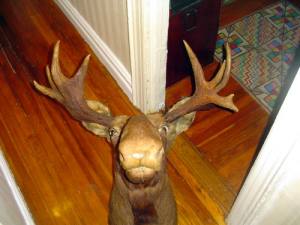 The show that used the moose head ended today and Rob handled the process of picking the props up from the theater for me. He just sent me this email about moving the moose.
It's in our hall now but we had to walk it up the stairs. Comically, we managed to coax it into the elevator but the slight difference in door geometry on our floor sent us cursing back down to the lobby.

Even on the 50 foot walk from the curb to our building, two people (New Yorkers no less) stopped to gawk, chat, and one took a photo.

I thought you might like the attached images for your blog.