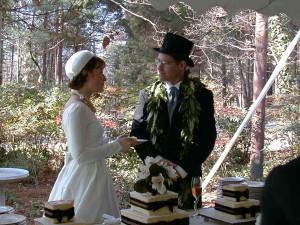 Rob and I are celebrating our seventh anniversary today. One of my rituals is that I completely unplug and am unavailable to the rest of the world. In fact, this is an automated entry. La! It's like time-travel.
I don't mind if we miss birthdays or other holidays, but our anniversary is very important to me.[1. I carry around a copy of our wedding vows in my wallet. I'm that sappy] One of the things that I enjoy is the ritual of trying to find the right gift. We do that whole thing of following the traditional gifts, so the first annivesary we both gave paper gifts. This year is wool or copper. I picked wool and got Rob some of the afghan shepherd's hats he's so fond of.
See you all on Tuesday!