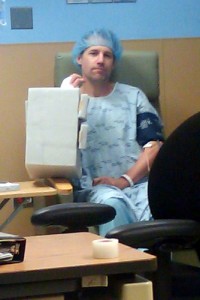 We're home from the hospital and I've already had to chase Rob away from the sink, where he was trying to do dishes with one hand.
The surgeon came to let me know that Rob was finished around 11:00 but I had to wait another half an hour or so before they took me up to see him. In the recovery room, they had a row of chairs that would have looked at home on the Enterprise, all occupied with men dressed just like Rob. The only variation was which arm had the giant block o' foam strapped to it.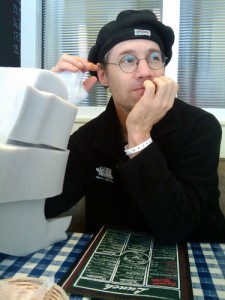 After they released him, I helped him get his jacket on and we headed out to the pharmacy and then to lunch. At the moment he says that the pain isn't any worse than during the worst days at the winery. Certainly, aside from the giant block of foam strapped to his arm, you'd have no idea that anything was wrong with him. He's going back next Wednesday to have the stitches out, but is supposed to keep the GBoF attached to him for the next eight days. Also, no lifting of anything, but otherwise, he's supposed to use the fingers to keep them mobile.
The GBoF should be interesting when he goes back to work…
And yes, we've already talked about what puppets I could make from it. It's good dense foam. And in a giant block.