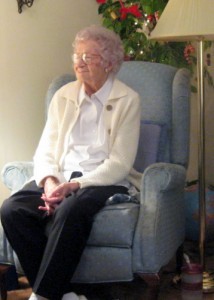 Not that Grandma is going to come online and see the birthday wishes, but I thought I would share them with you. I'll tell you, having a 106 year-old Grandmother who is still sharp changes one's views of aging significantly.
I'll give Grandma a call today, if she has time to talk to me given the vast hordes of people who are likely to drop by her house to wish her well. Vast hordes is not an exaggeration.  Just the sheer number of descendent's she has at this point would justify the word "horde."
Meanwhile, here's Grandma's recipe for Teatime Tassies for you to celebrate with.
Teatime tassies
1 – 3oz. Cream cheese
1/2 cup butter or margerine
1 cup sifted flour
1 egg
3/4 cup brown sugar
1 teaspoon vanilla
1 tablespoon butter
Dash of salt
2/3 cup broken pecans
Let cream cheese and butter soften to room temperature.  Blend and stir in flour.  Chill slightly until firm.  About 1 hour.  Shape 2 dozen 1 inch balls.  Place in tiny ungreased muffin cups.  Press dough on bottom and sides of cups.   Divide half the pecans among pastry lined cups.
Beat together  remaining ingredients  until smooth.  Add to pastry cups and top with remaining pecans.  Bake in slow oven 325° for 25 minutes or until filling is set.