My Favorite Bit: Aliette de Bodard talks about IN THE VANISHERS' PALACE
Aliette de Bodard is joining us today with her novella In The Vanishers' Palace. Here's the publisher's description:
From the award-winning author of the Dominion of the Fallen series comes a dark retelling of Beauty and the Beast.

In a ruined, devastated world, where the earth is poisoned and beings of nightmares roam the land…

A woman, betrayed, terrified, sold into indenture to pay her village's debts and struggling to survive in a spirit world.

A dragon, among the last of her kind, cold and aloof but desperately trying to make a difference.

When failed scholar Yên is sold to Vu Côn, one of the last dragons walking the earth, she expects to be tortured or killed for Vu Côn's amusement.

But Vu Côn, it turns out, has a use for Yên: she needs a scholar to tutor her two unruly children. She takes Yên back to her home, a vast, vertiginous palace-prison where every door can lead to death. Vu Côn seems stern and unbending, but as the days pass Yên comes to see her kinder and caring side. She finds herself dangerously attracted to the dragon who is her master and jailer. In the end, Yên will have to decide where her own happiness lies—and whether it will survive the revelation of Vu Côn's dark, unspeakable secrets…
What's Aliette's favorite bit?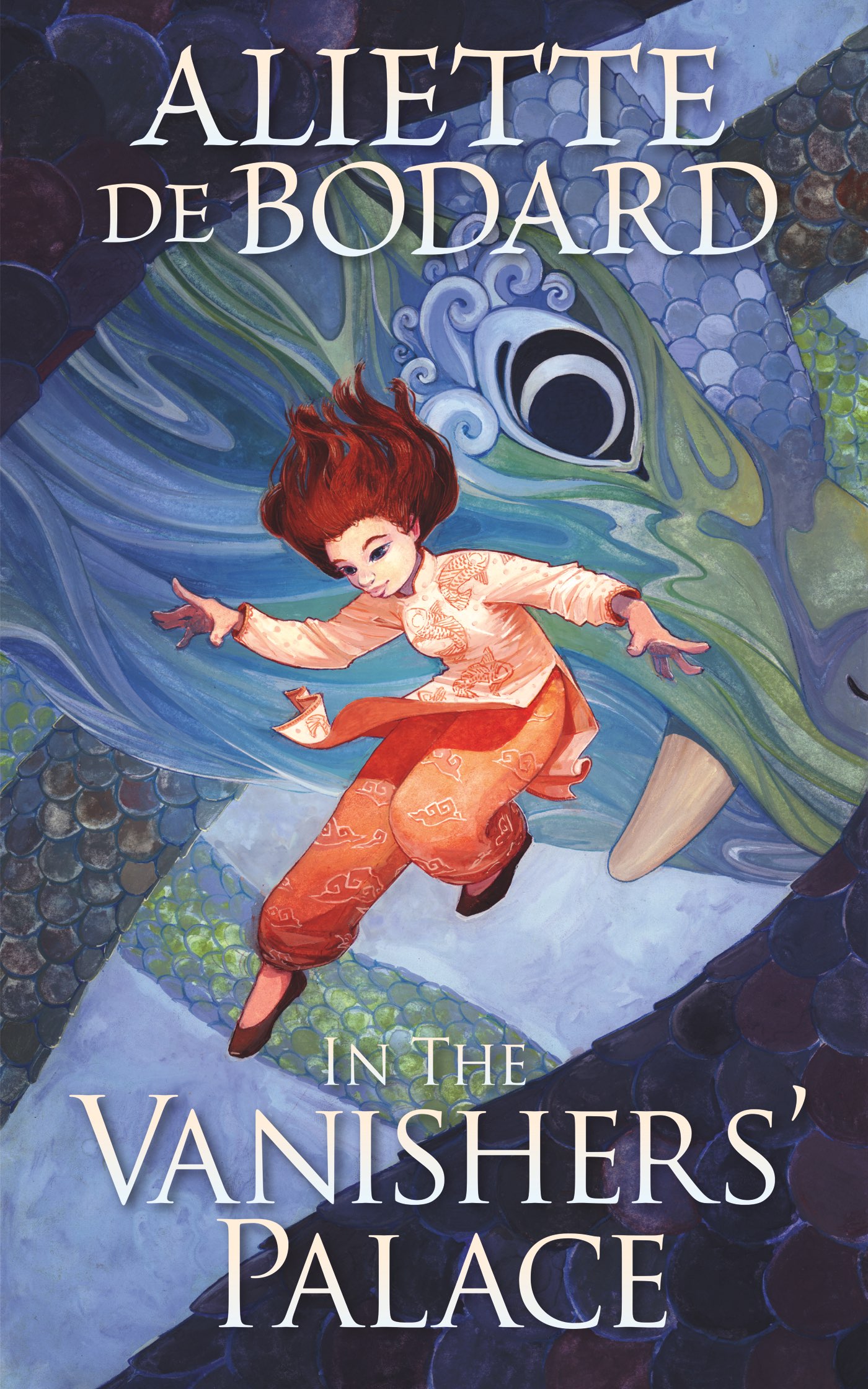 ALIETTE DE BODARD
My favorite bit of In The Vanishers' Palace is the fruit, or rather the flirting that happens around a basket of fruit.
Let's rewind a little. In the Vanishers' Palace is a dark retelling of Beauty and the Beast where they're both women and the Beast is a dragon, a river spirit who can shapeshift into human shape. It's inspired by Vietnamese folklore and fairytales and set in a ruined and ravaged world where nothing grows anymore. Beauty is Yên, a failed scholar who is sold to Vu Côn, the dragon character, and taken to Vu Côn's palace to tutor her two teenage children. Yên and Vu Côn find themselves slowly falling for each other in spite of everything that should separate them…
I'm a big food person and a big believer in food as comfort, so obviously that looms large in the narration. In the book, at one point, Yên meets a malevolent creature and finds refuge in Vu Côn's bedroom (for maximum embarrassment!). Vu Côn wants to comfort her (and to flirt with Yên as well, to whom she's attracted to): she hits on the idea of using magic to make a basket of fruit. And not just any fruit, but the beautiful and plump fruit from before the breaking of the world.
"Here. You need some comfort." Vu Côn must have seen Yên's face. "This is what they were, before the Vanishers poisoned the world. Mangosteen. Rambutan. Carambola. Dragon fruit. Breast-milk fruit. Mango. No fungus. No rot." She sat down again, the basket in her lap. She picked out a tight, almost perfectly round shape, red as a bleeding heart and with rough, gritty skin.
(I did make sure to include my favourite fruits in the basket, obviously! Rambutan is the BEST).
Of course, it doesn't go according to plan. The most obvious issue is of consent, since Yên is still Vu Côn's servant and prisoner at this stage: the book itself is deeply concerned with consent, which was problematic in the original version of Beauty and the Beast, and I wanted to make sure respect and mutual consent was on the table from the start.
A less obvious one is that I originally wrote the scene the wrong way: Vu Côn proffers the fruit, Yên is entranced but embarrassed, they kiss. And I wasn't happy about it: my subconscious kept insisting something was wrong. I thought it was the kiss, but then I realized that the problem was Yên. Unlike Vu Côn who is centuries old, Yên grew up in the broken world. She has stories and legends to remind her that things weren't always this way; but what she doesn't have is a real notion of how fruit tasted. She's not entranced: she's afraid, and unsettled, because the fruit taste weird to her. They aren't rotted on the tree, or stunted, or covered in lichen and fungus that radically alter their taste. The fruit are a comfort to Vu Côn because she grew up with them; to Yên they're just weird food.
So we have this reaction instead:
It tasted sweet. Too sweet, an almost-sickening explosion of juice and soft flesh in Yên's mouth. No grit, no soothing harshness. She made a face. "Elder aunt—"
And then they still do get around to kissing, because embarrassing forbidden kisses are such a good way to keep the plot going!
LINKS:
In the Vanishers' Palace Universal Buy Link
BIO:
Aliette de Bodard lives in Paris, and writes speculative fiction: her short stories have garnered her two Nebula Awards, a Locus Award and two British Science Fiction Association Awards. She is the author of the Dominion of the Fallen series, set in a turn-of-the-century Paris devastated by a magical war, which comprises The House of Shattered Wings (2015 British Science Fiction Association Award), and its standalone sequel The House of Binding Thorns (2017 European Science Fiction Society Achievement Award). Her latest is In the Vanishers' Palace (https://aliettedebodard.com/bibliography/novels/in-the-vanishers-palace/ ), a dark retelling of Beauty and the Beast where they are both women and the Beast is a dragon.