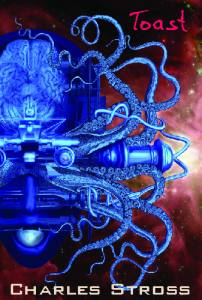 I just got the final art for Charles Stross's book, Toast, coming out from Wyrm. I'd already done a preliminary layout using the rough draft of the art, so it was easy to drop the final art in place, make a few tweaks and send it over to Neil.
The art is by the talented and very easy to work with Steve Montiglio. I have no understanding of how he works as fast as he does with as much intricate detail. He just delivered the final art weeks before his due date. It makes a girl very happy.
Besides– Giant octopus ships in space! What more could you ask for?