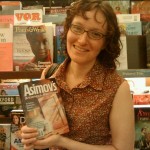 Forgive me for squeeing all over myself but I've been reading Asimov's since I was a teen and I just had just had the dream experience. I went into the bookstore and bought a copy of the magazine with my name on the cover. My name. On the cover of Asimov's. It's my first sale to the magazine, which is cool enough but didn't know until I went in that I'd made the cover.
And then! I got home tonight and Lois Tilton at IROSF reviewed the August Asimov's today. She gave my story, "The Consciousness Problem" a RECOMMENDED.
This is a poignant and sensitive look at problems of identity and relationships, as well as scientific ethics. Elise's mental lapses are particularly well done. The characters have clearly not thought through the implications of their project.
Swooning. I'm swooning here.