A totally legit self-propelled wheelchair from 1811, and I can't use it in my novel.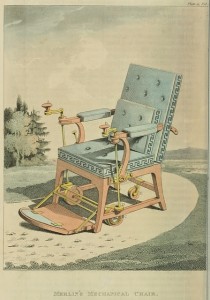 It is one of the great tragedies of my life that I cannot include this TOTALLY LEGIT steam-powered wheelchair from 1811 in my novels, because it will look steampunk. Even though it is a real thing — or at least was proposed as a real thing and published in Ackerman's, it is so out of keeping with what people imagine the Regency era to be like, that there's no way to include it without it appearing to be an invention of mine.
Sure, I could expend energy and wordcount to making people believe that it fits into the story, but they will never, ever, believe that I didn't make it up. Since I'm not writing steampunk with the Glamourist Histories, it will make the books feel like something that they aren't. If the plot in Of Noble Family  turned upon it, that might be worth it. Since it doesn't, I just have to sigh over the chair.
Also… the fact that this was invented by a guy named Merlin?
No. Way. No way could I ever get anyone to buy into it as a real historical thing. The reason people say, "You can't make this stuff up" is that you can, but no one will believe you.
But oooooh…. Isn't it cool?