My Favorite Bit: Kent Davis talks about A RIDDLE IN RUBY
Kent Davis is joining us today with his novel A Riddle in Ruby. Here's the publisher's description:
Ruby is a thief-in-training and a keeper of secrets—ones she doesn't even know herself. A Riddle in Ruby is the first book in a witty and fast-paced fantasy-adventure trilogy for fans for Jonathan Stroud, Septimus Heap, and The Very Nearly Honorable League of Pirates.

Ruby Teach, daughter of a smuggler and pirate, has been learning how to swindle and steal and pick the most complex locks for as long as she can remember. But a collision with aristocratic young lord Athen sends her spinning into chaos. Little did she know that her whole life has been spent in hiding from nefarious secret societies and the Royal Navy . . . who are both now on her trail. In this debut middle grade adventure, Kent Davis weaves a rip-roaring tale through an alternate colonial Philadelphia. A world where alchemy—that peculiar mix of magic and science—has fueled the industrial revolution. With this highly original setting, a cast of fully rounded characters and rapid-fire, funny dialogue, A Riddle in Ruby will call to mind fantasy greats like Diana Wynne Jones and Terry Pratchett.
What's Kent's favorite bit?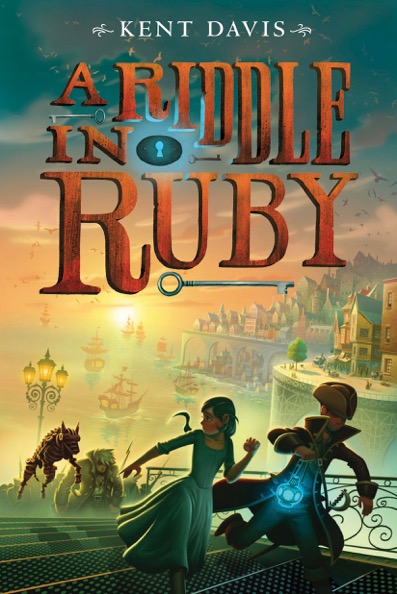 KENT DAVIS
Sparking fire. The wheel. The written word. Each changed the rules of our world forever. I have newly met a sister to these titans. Her name is Chemystry.
-Sir Francis Bacon, 1626,
Invisible College, London
My favorite bit of A Riddle in Ruby is the epigraphs. I deployed these little biscuits of text at the beginning of each chapter in an attempt to inject flavor and setting into the reader's head with maximum fun and minimum fuss. The 1718 of Ruby is significantly different from that of our own timeline, chock full of anomalies like cobalt gearbeasts, alchemical automatons, and the peculiar arcane chemists known as "tinkers."
THROW DOWN THE PLOW.
TAKE UP THE FLASK.
A YOUNG MAN'S FUTURE
IS THE ALCHEMYST'S TASK.
-Poster searching for workers,
Tinkers' Compound, New Jamestown
For example, the poster above sneaks several pieces of information to readers. First, that these Tinkers are a sizeable operation—they have a compound not just in Boston and Philadelphi, but in New Jamestown, too, and they're putting up posters looking for more recruits. Next, that a New Jamestown actually came to be, which tips the hat to the idea that in this timeline, the maps may be quite a bit different from ours. The last and arguably most important thing it allows me to do is put a "y" in alchemist. Messing with traditional spelling is second only in joy for me to performing Random Acts of Period Capitalization.
9th. Over Strident Objection from a Minority, Abigail Booker allowed to deliver her findings re: experimentation with Igneous Fluid. Cause: one part brilliant scholarship, another part Mlle. Booker's Ferocious Thumping of Mr. Smathers, compounded by her threats of further physical exertions if not allowed to speak. Excellent talk.
-Minutes of the Alembic Coffeehouse, UnderTown,
March 4, 1718
Abigail Booker and Mr. Smathers never make another appearance in the story. They do, however, offer a sense of the pluck, gumption, and Ferocious Thumping flavor that I hope suffuses the Chemystral Colonies. I want readers to feel as if they could, if they choose, set out from a scene featuring the heroine—a 13 year-old apprentice thief called Ruby Teach— and wander around a cobblestoned corner or into a fancy hall or journey into the deep western forest and still feel anchored to an intentional and specific setting. The world needed to be fleshed out as completely as possible, and that included creating portions of artifacts like newspapers, correspondence, novels, and even plays. Especially plays that let me use the name "Chatsbottom."
CHATSBOTTOM:     Where is my carriage, Farnsworth?
FARNSWORTH:       It is somewhat Exploded, milord.
CHATSBOTTOM:     Exploded, you say?
FARNSWORTH:       But Mr. Thunderfatch will no longer trouble your lordship.
CHATSBOTTOM:     Quite right. Good chap.
-Marion Coatesworth-Hay, The Tinker's Dram, Act III, sc. iv
The epigraphs also allowed me to tease this timeline's history. The action of the book takes place almost one hundred years after the event that sheared that timeline away from our own—the natural philosopher Sir Francis Bacon discovering the magical science of chemystry. Each of those years, just as in our own history, must have been jammed with potentially world-altering moments. I wanted readers to know that past events from that alternate timeline had a dramatic impact on the alchemy-driven, gearbeast-populated, on-the-cusp-of-an-industrial revolution 1718 into which they were diving. For example, inquisition-like trials for alchemists, presided over by the French academy.
You gravely mistake our nature. We are neither witches nor warlocks. We are men and women of science who eat with you, study with you, pray with you. If the purges continue, however, then we are no longer your countrymen, and we will have no choice in our own defense but to seize our liberty. This country will suffer.
-Pierre de Fermat, testimony to
Académie de Philosophie, Paris, 1653
Finally it was a question of precision over info dump. While it may be informative, a four-page treatise on the crop rotational practices of the Feggerventaven peoples in relation to the nutritious Rompopilio tuber really puts a crimp in narrative flow. On the other hand, I delight in mysterious hints and tantalizing references, fleeting glimpses of a setting iceberg lurking just below the textual surface.
Laugh at the Rain.
Laugh at the Reaper.
Run from the Reeve.
-Old Irish saying
If I'm honest, though, the most compelling reason for tagging the epigraphs as my favorite bit is that they've been just so flipping fun to write! Crafting them turned into my writer's diet equivalent of cheat days: pure delight and invention, without a shred of guilt. I hope the joy that I felt making them found its way onto the page, and that A Riddle in Ruby is the better for it.
WANTED
A Most Clever, Strange, and Dangerous
WAIF
A Young Girl Answering to Aruba Teach, also Ruby Teach
Of dark complexion, small stature and with features foxlike (as drawn below)
Sought for Crimes against the Crown
READY MONEY REWARD FOR HARD NEWS
Inquire at Berth No. 5, Benzene Yards Wharf, His Majesty's Ship Grail
-Wanted poster
—
LINKS:
Visit the author's site.
Follow him on Twitter.
BIO:
Kent Davis has spent most of his life making stories. He is an author, game designer, and actor. He lives with his wife and a wily dog-ninja named Bobo in Bozeman, Montana.