Coraline Assembly Line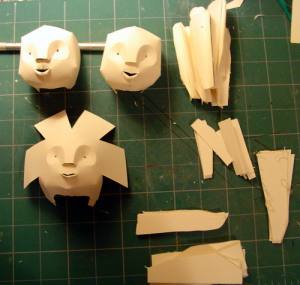 There's a certain euphonious delight happening with that title.
Anyway, we are now into the part of the build where I am creating the final dolls. Everything goes much, much faster once I've got the patterns created. At the moment I have a pile of body parts on my table waiting for me to assemble them.
You can imagine how long this would have taken if I were cutting out each individual piece with my exacto knife. All eternity. This is part of why I love my bandsaw. To show you how much faster the bandsaw makes this process go, here's a quick video.
Though I'm using a watercolor block in the video, you don't have to do that. You can cut out multiples like this by glueing or taping a stack of paper together. Just make sure that the glue is only in the areas that you are planning on discarding.