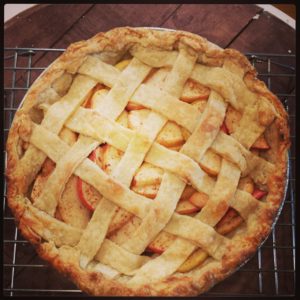 Mmm… pie. I tried a cardomom pie recipe the other day and the cardamom just overwhelmed the apples, but I liked the idea of it. So… here's my tweak to add a little wintery spice to an apple pie.
Makes 2 crusts
12 ounces bleached all-purpose flour (2.5 cups)




1 teaspoon salt




2 teaspoon sugar




1 cup butter, frozen and then grated




1/2 cup cold plain whole yogurt




2 tablespoon Grand Marnier (more as needed)
Keep everything cold. I make the crust next to the refrigerator and anything I'm not actively using goes into the freezer to stay cold.
Mix dry ingredients together. Grate butter with a coarse grater and toss with fork. 
Mix wet ingredients and then drizzle over dry, stirring gently until blended. Add more water or Grand Marnier to get desired consistency.
Filling
4-6 crisp apples
1 tablespoon honey
1/4 teaspoon cardomom
1/2 teaspoon cinnamon
1/2 teaspoon ground ginger
dash nutmeg
3 tablespoons flour
1 tablespoons lemon juice
Toss all the ingredients in a bowl. Taste and add more lemon juice or honey depending on the type of apples and if you want it tarter or sweeter. Add to crust. Make lattice for top. Bake at 375 for 45 minutes. Let stand to cool before cutting.
Variants: