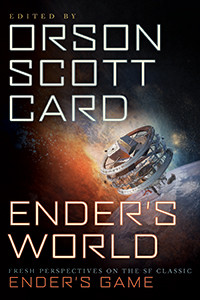 I wrote this essay in a moving van as we were relocating from Portland to Chicago. It appeared in Smart Pop Book's Ender's World which was a series of essays looking at the novel Ender's Game from different perspectives. Here's a teaser.
In 2005, I was fortunate enough to attend Orson Scott Card's Literary Boot Camp. I had read his books Characters and Viewpoint and How to Write Science Fiction and Fantasy, but his boot camp itself was a transformative experience. Before boot camp, I felt as though I could write a good story by accident, and afterward, as though I could write one on purpose.
Card explained the rules and how fiction worked so clearly that it had gone from being a mysterious process to being something repeatable. After the camp, I pulled out my battered copy of Ender's Game and re-read it because I wanted to see how he applied the rules that he just taught us.
I was stunned. Card breaks the rules all over the place. Pretty much every piece of wisdom I'd received in his boot camp, he took and inverted at least once in the book.
You can read my entire essay over at Smart Pop Books — The Cost of Breaking the Rules