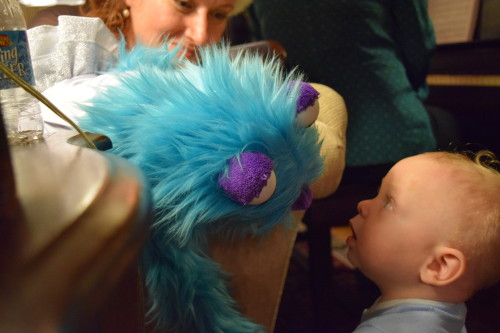 At Christmas every year, there's a giant gathering of family. I usually have a puppet because… because puppet. Anyway, one of my favorite things is introducing my newer cousins to the puppets.
There's an interesting thing that happens developmentally with little kids. You know that whole willing suspension of disbelief thing? Little kids haven't started doing that yet.
I can move the puppet and they'll respond to it as if it is real, because for them it is. If I speak with the puppet though, they are confused. They look at where the sound is coming from — at me — and not at the puppet because they haven't yet learned to play the game where we all pretend that the puppet is speaking.
I remember playing with one of my cousins when he was around five or six. I had a sea witch and he loved being chased around the yard by her. Periodically though, he would have to stop and say, "She's not real, right?" I would reassure him that she wasn't. Mind you, I was fully visible and not doing ventriloquism, but he still needed that reassurance, and then it was fun again. At this point, he wasn't doing willing suspension of disbelief, he just believed and need to remind himself where the real world was.
His dad, and the grandfather of the fellow in the picture, would watch his kids talking to the puppet and join in the conversation. Then his kids would wander off and he'd keep talking to the puppet. Then he stopped. "I'm talking to a puppet."
"Yes, you are," the puppet said.
And then he kept talking to her, with his willing suspension of disbelief in full force. It's a social compact that we make in a lot of art forms, and I love watching it develop and evolve.
When was the last time that your suspension of disbelief was strong enough that you didn't question it?