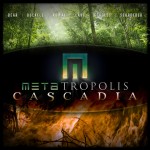 WOOT! Today is release day for the audio anthology METAtropolis: Cascadia. I love audio fiction and have been waiting to get my hands– er… ears on this for months now.  I'm happy on every release day, but there are some anthologies that I would anticipate and want copies of even if I didn't have a story in it. This is one of those.
The provocative sequel to the Hugo and Audie Award-nominated METAtropolis features interconnected stories by today's top speculative fiction writers, performed by a galaxy of Star Trek ® stars.

As the mid-21st century approaches, the Pacific Northwest has been transformed — politically, economically, and ecologically — into the new reality of Cascadia. Conspiracies and secrets threaten the tenuous threads of society. The End of Days seems nearer than ever. And the legend of the mysterious Tygre Tygre looms large.

METAtropolis: Cascadia is the creation of Hugo and World Fantasy Award nominee Jay Lake; Mary Robinette Kowal, winner of the John W. Campbell Award for Best New Writer; New York Times best-selling author Tobias S. Buckell; Hugo Award winner Elizabeth Bear; Aurora Award winner Karl Schroeder; and critically-acclaimed author Ken Scholes.

The team of narrators is any sci-fi fan's dream: Star Trek's Rene Auberjonois ("Odo"), Kate Mulgrew ("Capt. Kathryn Janeway"), Wil Wheaton ("Wesley Crusher"), Gates McFadden ("Dr. Beverly Crusher"), Jonathan Frakes ("Cmdr. William Riker"), and LeVar Burton ("Geordi La Forge"). Jay Lake, who also served as Project Editor, introduces this stunning sequel, written and produced exclusively for digital audio.
You can check it out at METAtropolis: CASCADIA | audible.com AND they have really nifty extras, like the cast talking about the recording process.