Wild Mushroom Risotto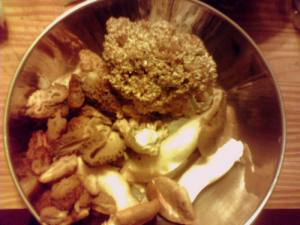 As I mentioned, Rob and I went to the farmer's market yesterday and picked up some mushrooms. Then, today, in a splendiferous surprise, our plaster repair man came by and gave us a quart bag of morels. It seems that he always picks a freezer full of them when he goes on his vacation. He'd said he would bring me some, but I didn't expect this many.
So tonight, I am making the Wild Mushroom Risotto Recipe at Epicurious.com.
ingredients
3 14 1/2-ounce cans vegetable broth
3 tablespoons butter
3 tablespoons olive oil
2 shallots, chopped
1 pound assorted wild mushrooms (such as oyster, crimini and stemmed shiitake), sliced
1 cup arborio rice* or medium-grain rice
1/2 cup dry Sherry
1/2 cup freshly grated Parmesan cheese (about 2 ounces)
3/4 teaspoon chopped fresh thyme
preparation
Bring vegetable broth to simmer in medium saucepan. Reduce heat to low; cover and keep broth hot.
Melt 3 tablespoons butter with olive oil in heavy large saucepan over medium heat. Add chopped shallots; sauté 1 minute. Add wild mushrooms; cook until mushrooms are tender and juices are released, about 8 minutes. Add rice and stir to coat. Add Sherry and simmer until liquid is absorbed, stirring frequently, about 8 minutes. Increase heat to medium-high. Add 3/4 cup hot vegetable broth and simmer until absorbed, stirring frequently. Add remaining hot vegetable broth 3/4 cup at a time, allowing broth to be absorbed before adding more and stirring frequently until rice is just tender and mixture is creamy, about 20 minutes. Stir in Parmesan cheese and chopped fresh thyme. Serve warm.
*Arborio, an Italian short-grain rice, is available at Italian markets and at many supermarkets nationwide.