We have a new kitty
Since Maggie passed away we've noticed that Marlowe is needy and bored. Yes, even with the move. So we'd been talking about getting another cat. Today we went up to the human society and looked at two very sweet kitties.  We probably would have looked at more but the decision was already hard.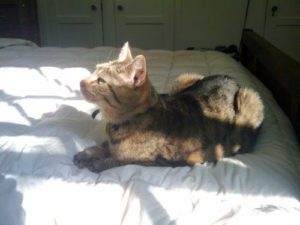 We've brought home a very sweet six-year old lady with a brown tabby coat and pale, pale yellow eyes.  My god, is she affectionate.  The biggest problem right now is the strength of her headbutts of love.
Initially we'll keep Marlowe and New Kitty separated until she's acclimated a little.  She comes from a house with 35 other cats.  Yes. You read that right.  Thirty-five cats.  One litter box.  We hope this means she'll adapt well to Marlowe.  He, meanwhile is wildly curious about what is happening in the bedroom.
She's curled up on my lap right now purring away.  We might have to have a discussion about where my lap ends and where the laptop begins but at the moment we're both content in the sun.
For those of you who love kitty photos, there are a half dozen or so at Picasa.