My Favorite Bit: William Alexander talks about NOMAD
William Alexander is joining us today with his novel Nomad. Here's the publisher's description:
Gabe Fuentes is in a race against time—and aliens—in this intergalactic sequel to Ambassador, which Booklist called "an exciting sci-fi adventure, perceptively exploring what it means to be alien," from National Book Award winner William Alexander.

When we last left Earth's Ambassador, Gabe Fuentes, he was stranded on the moon. And when he's rescued by Kaen, another Ambassador, things don't get better: It turns out that the Outlast— a race of aliens that has been systematically wiping out all other creatures—are coming. And they've set their sights on Earth.

Enter Nadia. She was Earth's Ambassador before Gabe, but left her post in order to stop the Outlast. Nadia has discovered that the Outlast can conquer worlds by traveling fast through lanes created by the mysterious Machinae. No one has communicated with the Machinae in centuries, but Nadia is determined to try, and Gabe and Kaen want to help her. But the three Ambassadors don't know that the Outlast have discovered what they are doing, and have sent assassins to track them down.

As Nadia heads deeper into space to find the Machinae, Gabe and Kaen return to Earth, where Gabe is trying to find another type of alien—his father, who was deported to Mexico, and who Gabe is desperate to bring home. From a detention center in the center of the Arizona desert to the Embassy in the center of the galaxy, the three Ambassadors race against time to save their worlds in this exciting, funny, mind-bending adventure.
What's William's favorite bit?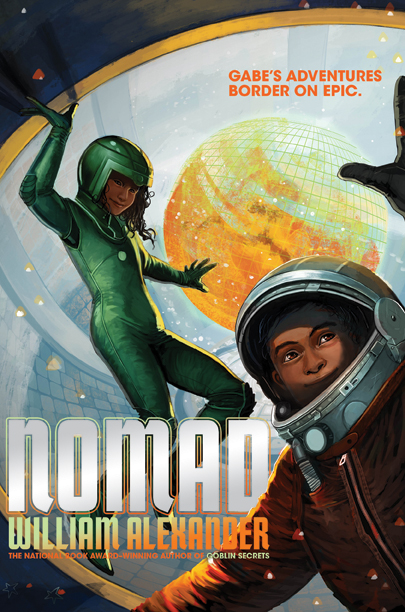 WILLIAM ALEXANDER
"I want people to know that it's funny," my editor said.
We were struggling with promotional descriptions of Nomad. Summarizing a novel is like shoving a genie into a bottle two sizes too small.
"Really?" I asked. "Seems like a tonal shift after talking about child-diplomats, deportation, and devastating galactic conquest."
"But the book is also funny!" she insisted.
In honor of Karen Wojtyla, my wise and wonderful editor, I chose one of the funny bits to share as my favorite.
*          *          *
Ambassadors between planets and spacefaring civilizations are always young. You have to get the kids talking first.
Each ambassador transmits an entangled sense of self to the Embassy in the center of the galaxy. All sorts of habitats are simulated inside. At least one spot will feel like home.
The rest of the Embassy will not.
Breathing underwater is difficult when your body insists that it shouldn't be able to. Gabe hovered just under the surface, closed his eyes, and argued with his lungs.

We should panic, the lungs told him.

We'll be fine, he answered, and tried hard to believe it.

Start kicking back to the surface, they said.

You aren't even here, he reminded them. You're very far away, along with the rest of me.

We're sinking! his lungs shouted. I really do think we should consider freaking out about this.

Shhhhhhhhhh, he said. Calm down.

Both lungs continued to protest right up until the moment they relaxed into their usual rhythm.

Huh, they said. That worked out fine.
This bit—which is almost my favorite—is based on memories of learning how to swim at the local YMCA. I was five or six years old and had just figured out how to hold my breath without panic. It felt like remembering rather than learning something new. I was pretty sure I could keep it up indefinitely. Then I forgot how, abruptly lost the knack of breathing underwater, and kicked back to the surface. Repeat.
If someone offered me a superpower, any superpower, I would flip a coin to choose between breathing underwater and flying—which brings us to my favorite bit.
Gabe looked up. Flying ambassadors circled and soared above him. Most of them had wings. Gabe didn't.

"Okay, then," he said. "So now I need to learn how to fly. Does anyone else down here know how to fly?"

Many of his colleagues did, but their help was not helpful.

"It's not so much about wanting the sky as it is about forgetting the ground."

"Picture the way matter bends space, and change how you see that shape. Just fall whichever direction you want to go."

"You want to fly? Why would anyone want to fly? The hidden and burrowing games are much better than all of that ball throwing and cloud hopping. Don't fly. Learn how to dig."

"Just think happy thoughts."

Gabe listened to several offerings of contradictory advice. Then he stood on tiptoes, clenched his hands, and focused hard on the clouds above. Nothing and more nothing happened.

"Learning how to breathe underwater was so much easier," he said to himself. "I already knew how to swim. I just needed to convince my lungs that they were far away and safe from drowning. But I can't fly, and my whole body knows it. I've got to convince every single part of me that I can."

"That sounds exhausting," Sapi said from somewhere above him. She dropped down lightly to the grass. "Stop arguing with all of your various bits. This is a dream, remember? You're dreaming an entangled dream. Haven't you ever dreamed about flying?"

"Hi, Sapi," Gabe said. "No, I haven't. Or maybe I have. I don't know. I never remembered my dreams before coming here."

"You poor, sad thing," Sapi said. "Well, come on. Kaen is waiting for us. The thing about a flying dream is that there aren't really any mechanics involved. No flapping limbs, no imaginary wings. Just movement and intention."

"That's what I've been trying to do!" Gabe protested. "But intention isn't producing much movement."

Sapi pressed all of her fingertips together. "Calm down, close your eyes, and hold both hands up in the air."

He did. "Now what?"

"Now shut up and be patient. I'll need to take a running start."

Gabe waited. He kept his eyes closed. Then Sapi grabbed both hands and pulled him into the sky.
Both Nomad and the paperback edition of Ambassador will be published on September 22.
Many thanks to Mary Robinette Kowal for giving me a stage to stand on.
LINKS:
Nomad on Amazon | Barnes & Noble | IndieBound | Powell's
Ambassador paperback on Amazon | Barnes & Noble | IndieBound | Powell's
BIO:
William Alexander won the National Book Award in 2012 for his first novel, Goblin Secrets, and the Earphones Award for his narration of the audiobook. His second novel, Ghoulish Song, was a finalist for the Mythopoeic Award. His third, Ambassador, was a Junior Library Guild Selection, a finalist for the International Latino Book Award, and a winner of the Eleanor Cameron Award. Will studied theater and folklore at Oberlin College, English at the University of Vermont, and creative writing at the Clarion Workshop. He teaches at the Vermont College of Fine Arts program in Writing for Children and Young Adults.