Fish: The to-do list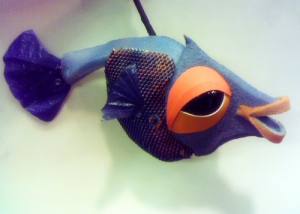 I thought you might be interested in seeing what the to-do list on a puppet build looks like. This is the one for the fish. Bear in mind as you look at the list that we have to build sixteen of them.
Things in bold mean that anyone can do them.
Ask office about painting in parking lot. – Emily
Spray glue on all foam and dry it.
Design belly paint – Emily
Call Brickman's – paint – Emily
1. Design Master 1 can Blueberry
2. Beltone Molatov Premium – Goldfish (brooklyn or Pearl Paint) or TerraCotta 1 can
3. Krylon Special Purpose Florescent Green 3106 need 3 cans
4. Krylon OSHA special purpose Safety Yellow
5. Fireproofing spray
Pick up spray paint.
Pattern fish tails and fins with accordion folds – Mary
Cut fish tails and fins
Split fish heads – Erika
Cut spacers for heads
install headspacers
Paint inside of thirty eyeballs
Pattern eyelids – Mary
Cut eyelids
Test rod placement – Mary
16 10″ rods cut and sanded from bamboo
cut 16 wedges for rod placement, see pattern.
Install rods
Check girl lips – Emily
Pattern fish lips – Mary
Cut fish lips
Look at inside of eyeball color – Emily
Finish sewing bellies – Sarah
Paint bellies – Jane
Assemble fish
1. Head to spine
2. Belly pulled on
3. Attach belly to head
4. Attach belly to spine
5. Attach lips
6. Attach eyes (No heat after eyes attached!)
7. Attach eyelids
8. Additional painting
9. Attach fins
In the photo at the top, the fins are pinned on and we still need to do the additional painting. We have five fish at this state. The rest should be finished fairly quickly tomorrow.
There's another to-do list, like this one, for the crocodile and leopard which we are also making.