My Favorite Bit: Michael F. Haspil talks about GRAVEYARD SHIFT
Michael F. Haspil is joining us today with his novel Graveyard Shift. Here's the publisher's description:
Alex Menkaure, former pharaoh and mummy, and his vampire partner, Marcus, born in ancient Rome, are vice cops in a special Miami police unit. They fight to keep the streets safe from criminal vampires, shape-shifters, bootleg blood-dealers, and anti-vampire vigilantes.

When poisoned artificial blood drives vampires to murder, the city threatens to tear itself apart. Only an unlikely alliance with former opponents can give Alex and Marcus a fighting chance against an ancient vampire conspiracy.

If they succeed, they'll be pariahs, hunted by everyone. If they fail, the result will be a race-war bloodier than any the world has ever seen.
What's Michael's favorite bit?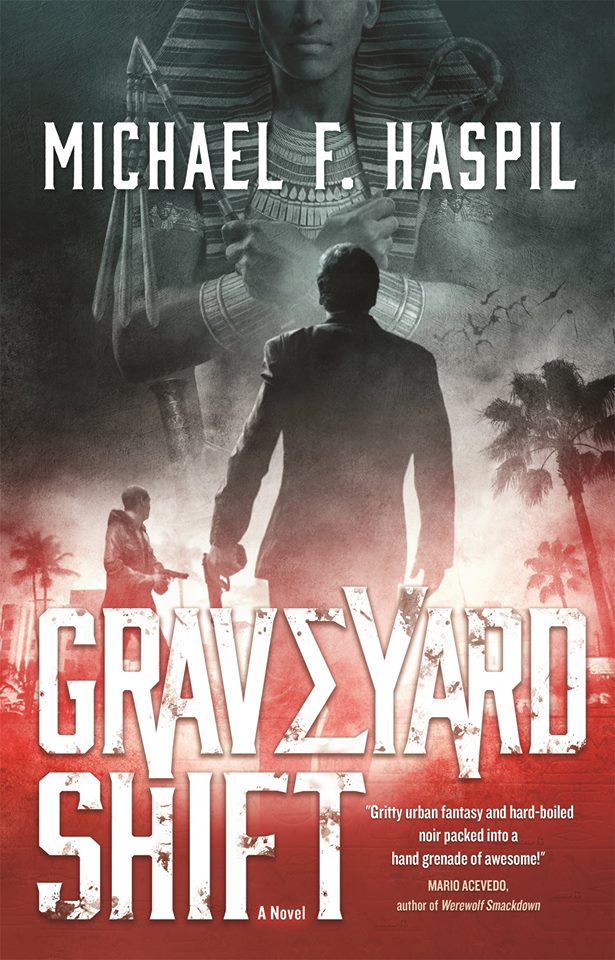 MICHAEL F. HASPIL
Mummies. Ancient Egypt. From a young age, the allure and antiquity of olden Kemet fascinated me. Regrettably, much of my attention was due to the fun stories tied to the pseudoscientific — Von Daniken and the like. Don't even get me started about Stargate. As I write this, a set of Anubis Jaffa armor stands behind me, no joke.
I've also had a fascination with the builder of the third largest pyramid at Giza. Think of those pyramids and try to name them. There's the Great Pyramid of Khufu (Cheops), the Pyramid of Khafre (Chephren), and there's the third pyramid, the Pyramid of Menkaure (Mykerinos) which people usually forget.
Menkaure was the penultimate pharaoh in the fourth dynasty of the Old Kingdom. Herodotus sings his praises as a good and just ruler. I had it in my head to write a historical fantasy story that would tell of his reign and maybe why it was short. That required significantly more Egyptological research to tell the tale properly. I had my work cut out for me. So I shelved the project for a time.
When I set out to write GRAVEYARD SHIFT, I knew I wanted the protagonist to be a kind of vampire hunter people hadn't seen before. The old trope of vampire's disdaining sunlight became my clue. Why not a character who worshipped the sun? Not simply for religious reasons, but because he drew power and protection from it. Menkaure immediately jumped to the forefront and my mind filled in the story about how he became a mummy and how he came to find himself in modern-day Miami, passing for human and working as a detective.
There was one problem. In most stories concerning reanimated mummies, they are creatures of evil, willing to sacrifice everyday humans to whatever cause they follow. I wanted Menkaure to be a hero, perhaps not in the traditional sense, but certainly not a movie monster. Then I remembered an old story by Edgar Allen Poe. Some Words With A Mummy is a satirical take on the Victorian practice of throwing mummy unwrapping parties. Poe pokes fun at the supposed sophistication of his era. Poe's mummy is extremely different. He's a person who wakes up after a prolonged sleep. He has a drink and some conversation and doesn't curse anyone or hurl sandstorms at cities.
That showed me the way to Menkaure's character. He's an ancient king. Like Shelley's Ozymandias, his throne, his subjects, his monuments, and his nation lie in ruined antiquity too horrible to contemplate. Menkaure atones for sins he believes he committed more than forty-five hundred years ago. He is jaded and tired and numb to the atrocities of the contemporary world.
My favorite bit? Broken as he is, he's still a king somewhat reluctantly serving his subjects. He's a good guy willing to stand between the darkness and the light as humanity's guardian against primordial evil. And that's why I love him. 
LINKS:
BIO:
Michael F. Haspil is a geeky engineer and nerdy artist. The art of storytelling called to him from a young age and he has plied his craft over many years and through diverse media. He has written original stories for as long as he can remember and has dabbled in many genres. However, Science Fiction, Fantasy, and Horror have whispered directly to his soul. An avid gamer, he serves as a panelist on the popular "The Long War" webcasts and podcasts, which specializes in Warhammer 40,000 strategy, tactics, and stories. Graveyard Shift is his first novel. Find him online at michaelhaspil.com or @michaelhaspil.