My Favorite Bit: Adam Christopher talks about KILLING IS MY BUSINESS
Adam Christopher is joining us today with his novel Killing Is My Business. Here's the publisher's description:
Another golden morning in a seedy town, and a new memory tape and assignment for intrepid PI-turned-hitman―and last robot left in working order―Raymond Electromatic. But his skills may be rustier than he remembered in Killing Is My Business, the latest in Christopher's robot noir oeuvre, hot on the heels of the acclaimed Made to Kill.
What's Adam's favorite bit?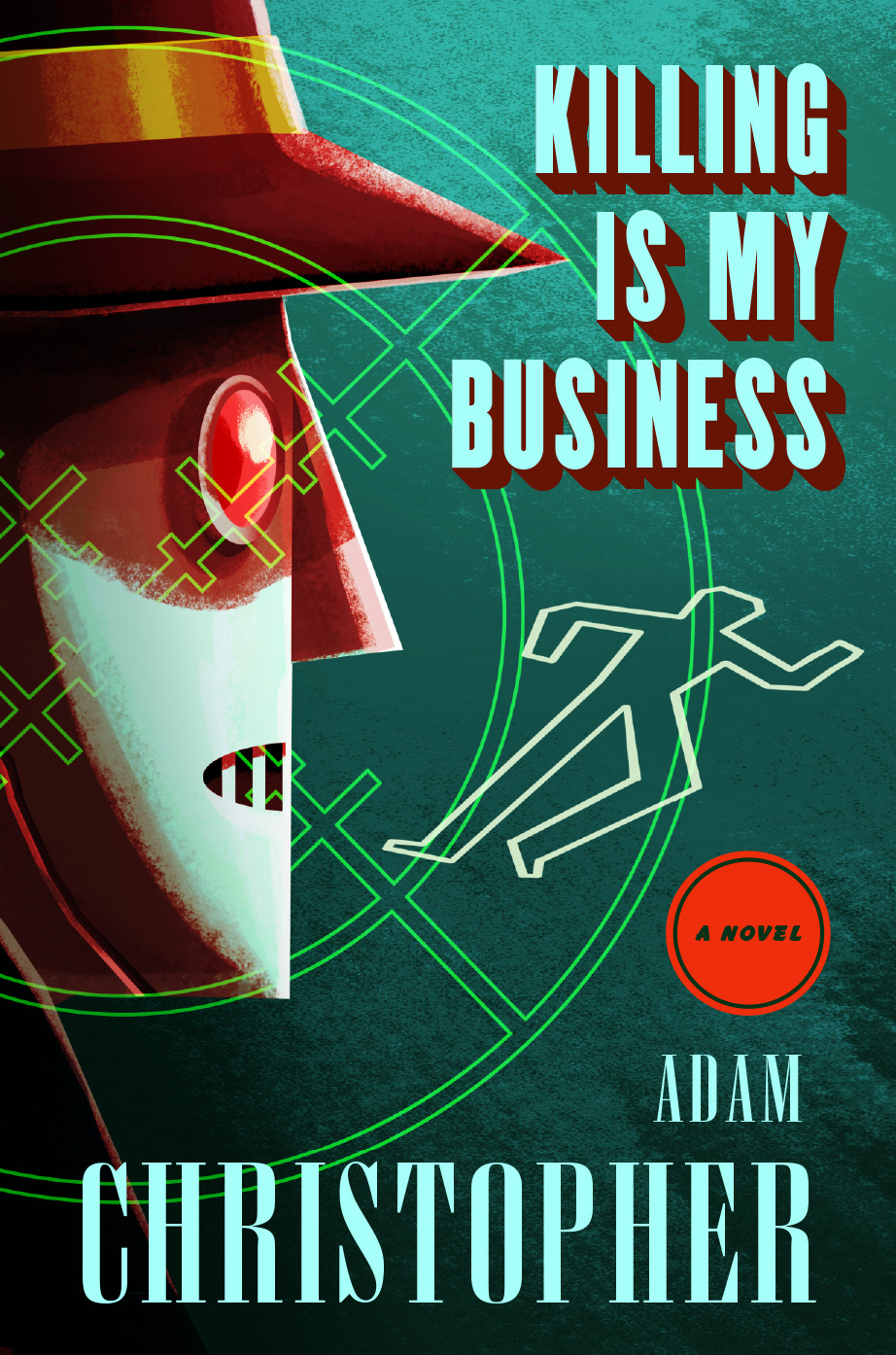 ADAM CHRISTOPHER
Ray Electromatic, eponymous hero of the Ray Electromatic Mysteries – if hero is the right way to describe a robot who pretends to be a private detective when he's really a paid assassin – has a problem.
Actually, that's not strictly true – Ray Electromatic has lots of problems. A six-foot-something-else bronzed titanium titan, clad, like any half-decent private dick, in overcoat and hat, Ray's biggest issue is his memory. He only has twenty-four hours of it, tucked away in a little reel-to-reel tape behind his chest panel. When the tape is up, he heads home to the office and the tape is switched to a new one under the supervision of his boss, a room-sized supercomputer called Ada.
Which means Ray doesn't remember a damn thing about what he's done – the perfect cover for a hit-robot, but quite often Ray wishes he had a clue or two about what he's been up to in Hollywood, California, 1965. It doesn't help that he doesn't quite trust Ada, either, and then there's the shady federal agents and the even shadier private contractors from thrice-shady International Automatics to watch out for.
So sure. Ray Electromatic has problems, but he is – or was – a detective, so once he starts leaving himself clues about what's going on, he's in his element. Because if the dirty little operation that he and Ada run is in danger of discovery, well, he needs to know what's going on so he can protect them both.
But Ray's other problem, the one that would keep him up at night if he didn't have to switch off, is that he thinks he's human.
Okay, that's not strictly true either. Ray knows he is a robot. But in this glorious and far-distant sci-fi future of 1965, Ray's creator, the perhaps-not-so-mysteriously-deceased Professor Thornton, realized that the secret to true artificial intelligence was to use a template based on a human mind as the spark of creation. So Ray Electromatic is, in a way, Professor Thornton – not a duplicate or a clone, but an AI that shares some of his creator's personality and tastes and even (although this isn't supposed to happen) memories. Ray is his own robot, and he knows all about the template, and he absolutely knows he is a robot and not a human being, but that doesn't stop him… well, thinking about things.
My favorite bit of Killing is my Business, the second Ray Electromatic Mystery, is in chapter one. Here, Ray is staking out his next target – Vaughan Delaney, a planner for the city of Los Angeles. Ray doesn't know why Delaney has to die and he doesn't care – Ada gets the jobs, he carries them out – but in the three weeks he spends watching Delaney's office, Ray has time to consider the lives of the human beings around him. He watches them go to work, he watches them go home. He even gets some very human urges:
It was a busy street and the office got a lot of foot traffic, some of which even stopped to admire the car that was the same color as a fire engine parked right outside the door. Back on my side of the street there was a drugstore down on the corner that got a lot of foot traffic too. I watched people come and go and some of those people were carrying brown paper bags. Some people went inside and stayed there, sitting on stools at the bench inside the front window as they drank coffee and ate sandwiches.

I watched them a while longer and then I thought I'd quite like a sandwich and a coffee to pass the time. I didn't need to sit and watch the building. Vaughan Delaney's schedule was as regular as the oscillators in my primary transformer. I had time to spare.

I got out of the car and stood on the sidewalk for a moment, one hand on the driver's door, looking over at the office building. A sandwich and a coffee still felt like a great idea. It was the kind of thing you got when you spent a lot of time waiting and watching. It helped pass the time, like smoking and talking about baseball with the boys and making your own flies for fly-fishing.

Of course, I had no need for a coffee or a sandwich. If I walked down to the drugstore and went inside and bought one of each I wouldn't have any use for them on account of the fact that I didn't eat or drink.

I was a robot.

And still as I stood there in the street the faint memory of the taste of fresh hot coffee tickled the back of my circuits. An echo of another life, maybe. A life that didn't belong to me but that belonged to my creator, Professor Thornton.

A coffee and a sandwich would be a real waste, but maybe the drugstore could sell me something else. Maybe I could get a magazine. A magazine or a paperback book. That sounded fun. I had two hours to kill before I followed the target on his weekly jaunt around the City of Angels.
That's Ray's problem. He's a robot who sometimes feels like a human, but he can't do a thing about it, and he's not sure if this is a good thing or a bad thing, but what he does know is that even if he feels this way each and every day he won't remember a blind thing about it, thanks to his limited memory tape.
I like Ray. He's very good at what he does but he's flawed and he's uncertain about a lot of things. There's an air of melancholy about him. He's the last robot in the world, and he knows it, and sometimes he dreams of another life that wasn't his.
And then he gets on with the job, because he's a professional – another echo from Professor Thornton's template.
LINKS
BIO
Adam Christopher's debut novel Empire State was SciFiNow's Book of the Year and a Financial Times Book of the Year. The author of Made To Kill, Standard Hollywood Depravity and Killing Is My Business, Adam's other novels include Seven Wonders, The Age Atomic and The Burning Dark. Adam has also written the official tie-in novels for the hit CBS television show Elementary, and the award-winning Dishonored video game franchise, and with Chuck Wendig, wrote The Shield for Dark Circle/Archie Comics. Adam is also a contributor to the Star Wars: From A Certain Point Of View 40th anniversary anthology.
Born in New Zealand, Adam has lived in Great Britain since 2006.