An apology to my fans
Last month when doing Month of Letters, I learned the meaning of unintended consequences. I did not expect my challenge to go viral and certainly not to be picked up by the Guardian.  I also did not expect people to think "'Mary' is part of a USPS marketing campaign experimenting with viral marketing."
While I was not, and the Challenge was genuine, a reporter digging into that question uncovered some facts about me that are going public soon, and I'd rather you hear them from me. I've spent the past month explaining things to my agent and editor.
Mary Robinette Kowal is a pen name.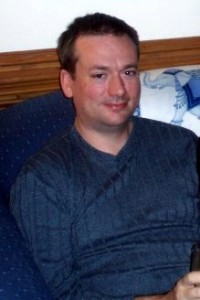 My actual name is Stephen Harrison. I teach history at Vanderbilt and am getting my PhD, and yes, I am a man. The woman that you have met at some conventions is my sister. I hired her to be "Mary the writer."
So the question you are probably wonder is why? Why would I go to such extremes rather than simply using my own name, or gender, or having an open pseudonym? The gender question is the easiest to answer. As a writer of Regency Romances, it became clear that I would never sell a novel as a man.  There is too much industry prejudice against men in Romance. In fact, the taking of a female pseudonym is very common practice.
I tried for years to sell Shades of Milk and Honey under my own name. One rejection letter actually said, "No one buys romance by men." Faced with that blatant discrimination, in a moment of frustration, I slapped my sister's name on the manuscript and threw it into the mail. I can not describe the level of relief and frustration I felt when it sold immediately. On the one hand, my novel had sold! On the other, it was such a clear sign of discrimination against men.
My sister had been hearing about my flagging writing career for years and when I told her what had happened, she said, "Use it. You can even blog as me."
She has been amazingly supportive. I can't thank her enough for the gift she's given me of a writing career. But I want to be clear that this was all in reaction to the pervasive prejudices against men. I was terrified that if I outed myself, people would stop buying my books. Romance? Written by a man? Feh. And yet, everything in the industry said that you had to have a physical presence at conventions to sell books. No one sells books without making that personal connection with fans.
I can't tell you how fortunate I am that Mary was willing to attend conventions for me.  Her career as professional puppeteer was also a clever nod to the truth. She was not just a professional puppeteer, she was a professional puppet.
Neither of us intended for this to become so complicated and I can only apologize for the trust I have betrayed in my fans. I should have been up front sooner.
But I also hope that this serves as a wake up call for the industry and that it will stop its prejudicial practices against men. We have something to say about romance, too.
Edited to add: Since it is no longer April Fool's Day, it only seems fair to tell you that this was a prank. Steve really is my brother, but the only writing he's doing is on his dissertation.