15 years! Here's what our anniversary plans are.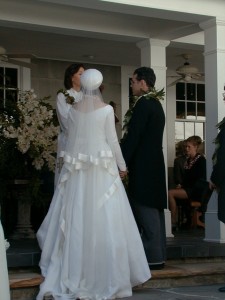 Rob and I have been married for fifteen years now and I remain as happily in love as ever. The nature of the way that love expresses itself changes over the years. Our first anniversary was spent at a resort where we met up during the middle of a puppet theater tour I was on.
This year, we're taking the cat to the vet. Romantic, I know. But the beautiful thing about a marriage is that even the mundane details of life can be acts that reaffirm commitment and love. We're taking Marlowe to the vet (he's 17, this is just a check-up) because we knew that it was a day when we were both available. In the evening, after apologies to the cat for indignities suffered, we're going out for cocktails at Violet Hour.
I had to ask Rob to order his own present this year (martini glasses, because it's the crystal anniversary) because I couldn't find glasses that weren't the size of your head, and we wanted 4 oz. ones. He works for a winery and they have access to amazing stemware catalogs. The fact that he has to do the work to procure them? Not important. He wouldn't have thought of it on his own, and is pleased that I did.
This is a marriage. It's teamwork. And I love it.
I love him.