Woot! GHOST TALKERS is one of AudioFile's best audiobooks of 2016!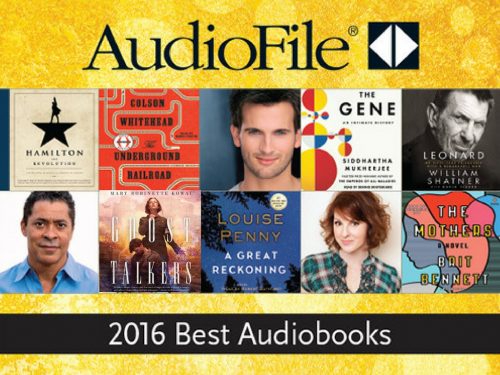 I am so incredibly pleased and honored that AudioFile has picked Ghost Talkers as one of the best audiobooks of 2016. Also floored.
Just to put this into perspective for folks who aren't in the audiobook industry… The AudioFile Magazine editors maintain an archive of more than 40,000 reviews and pick the 2016 books from the list of work that they reviewed that year. So… kinda neat. You know, if you're into that stuff.
Huge congratulations as well to the other folks in the SFF section of the list.
AGE OF MYTH Michael J. Sullivan Read by Tim Gerard Reynolds (Recorded Books)
ALIEN: OUT OF THE SHADOWS Tim Lebbon, Dirk Maggs Read by Rutger Hauer, Corey Johnson, Matthew Lewis, and a Full Cast (Audible, Inc.)
ALL THE BIRDS IN THE SKY Charlie Jane Anders Read by Alyssa Bresnahan (Recorded Books)
BATTLEFIELD EARTH L. Ron Hubbard Read by Josh Clark, Charlie Davis, Scott Menville, Jim Meskimen, Stefan Rudnicki, and a Full Cast (Galaxy Audio)
CAPTAIN TO CAPTAIN Greg Cox Read by Robert Petkoff (Simon & Schuster Audio)
CITY OF MIRRORS Justin Cronin Read by Scott Brick (Random House Audio/Books on Tape)
THE CITY ON THE EDGE OF FOREVER Harlan Ellison Read by Harlan Ellison, Scott Brick, LeVar Burton, and a Full Cast (Skyboat Media/Blackstone Audio)
THE FIREMAN Joe Hill Read by Kate Mulgrew (Harper Audio)
GHOST TALKERS Mary Robinette Kowal Read by Mary Robinette Kowal (Audible, Inc.)
JERUSALEM Alan Moore Read by Simon Vance (Recorded Books)
MARVEL: DAREDEVIL Kevin Smith, Joe Quesada, Richard Rohan [Adapt.] Read by a Full Cast (GraphicAudio)
THE OBELISK GATE N.K. Jemisin Read by Robin Miles (Hachette Audio)
SERENGETI J.B. Rockwell Read by Elizabeth Wiley (Tantor Media)
THE SUDDEN APPEARANCE OF HOPE Claire North Read by Gillian Burke (Hachette Audio/Blackstone Audio)
VERSION CONTROL Dexter Palmer Read by January LaVoy (Random House Audio/Books on Tape)