Flying Higher: An Anthology of Superhero Poetry Is Available!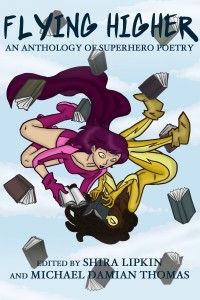 There are times when peer pressure can be a creative force. For instance… if you happen to attend a dinner with editors Michael D. Thomas and Shira Lipkin, you might discover that you are suddenly writing superhero poetry on the back of a placemat.
For an anthology.
So if you are interested in reading my first published piece of poetry since the mimeographed school newspaper in my elementary days, check out Flying Higher, for free on Smashwords.
There is also legitimately good poetry in there, too. Check out the table of contents.
Introduction ~ Shira Lipkin & Michael Damian Thomas
Becoming Wonder Woman ~ Julia Rios
AND THE BRONZE MEDAL GOES TO… ~ M. David Blake
The Boy Wonder ~ Mary Robinette Kowal
If ~ Kip Manley
O CAPTAIN! AMERICA'S CAPTAIN! ~ Alex Bledsoe
Mrs. Freeze ~ Anita Allen
Riveted ~ Lisa Bradley
Untitled Haiku ~ Amy McNally
Untitled ~ A.C. Wise
Supervillanelle ~ Lisa Nohealani Morton
The Tiger is Herself ~ Gillian Daniels
Untitled ~ Eric Burns-
Whiteswimming lesson ~ S. Brackett Robertson
Pantone 032 ~ Torrey Stenmark
Untitled ~ Lynne M. Thomas
Said Gorilla Grodd, to God… ~ Erik Amundsen
Unofficial Love ~ Shawna Jaquez
Riddler's Clues, a Villanelle ~ John O'Connor
Invisible ~ Emily Wagner
Hawkguy ~ Michael Damian Thomas
Darksein the Diabolic Plots His Comeback from Beyond the Grave ~ Mike Allen
Alias ~ Erika Ensign
Judah Maccabee ~ Benjamin Rosenbaum
The Scarlet Witch at Rest ~ Laura McCullough
APACHE CHIEF ~ Sofia Samatar
Wonder Woman Lassos the C.E.O. ~ Wendy Babiak
Inhumanly King. (a poem by Black Bolt) ~ Adam P. Knave
Poison Ivy ~ Emily Nordling
An Elegy for Evelyn Cream ~ Amal El-Mohtar
The Wolverine ~ Matthew Kuchta
Bat-Mite's Refrain ~ R.B. Wood
Untitled ~ Adam Lipkintake
off your horn-rims and fly ~ Gwynne Garfinkle
Untitled ~ Stefan Krzywicki
Guarded ~ Stephanie M. Clarkson
J'onesing for J'onn J'onnz—A Fanboi's Paen to the Martian Manhunter ~ Kelly McCullough
Rocket's Red Glare ~ John O'Connor
The Bone Woman ~ Alex Dally MacFarlane
Unmasked ~ Claire A. Miller
knitwear is both harder and softer than suits ~ Wednesday Burns-White
The Fish Aquatic ~ John Klima
You! I Thought You Were Dead!* ~ Steven Marsh
Untitled ~ Fritz Bogott
Untitled ~ Mari Ness
Bless Us, Nellie Bly, Saint of the Secular Upstarts ~ C.S.E. Cooney
The Ballad of Captain America's Disapproving Face ~ Catt Kingsgrave
Untitled ~ Michael McAfee
The Tick ~ Liz Argall
Superheroes ~ Meredith Schwartz
Friendship and Butts ~ Shawna Jaquez
Green in Gold and Silver ~ David D. Levine
Super Sense ~ Talib Hussain
Superhero Haiku Triptych ~ Paul Weimer
Princess of Gemworld ~ Mary Anne Mohanraj
Limbo ~ Shira Lipkin
You can read about the genesis of this mad venture at Scribbling Caregiver of DOOM!!! – Flying Higher: An Anthology of Superhero Poetry Is Available!.