While, normally I do try to avoid discussing my undergarments, I thought, given yesterday's adventures, that you'd like to know that I did go shopping and am equipped for getting through the weekend. Although still finding the experience creepy, the story of it amuses me. You know what I mean about the difference between the two?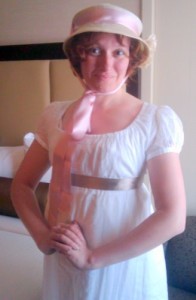 Besides getting to see boatloads of friends, I also specifically got to hang out with Genevieve Valentine, who helped me get the underpinnings of my Regency dress situated correctly. With all the layers, I'd been having some trouble having too much bulk at the shoulders. The secret, it turned out, was to wear the chemise and bodiced petticoat slightly off-the shoulder. Problem = solved.
However, I also realize that I will absolutely have to have a dresser to help with tying of bows and the like. All I have to say is that in Regency trysts there was no such thing as "putting the clothes back on quickly to avoid discovery."
Oh, and I did decide that I'll wear the Regency dress at the Tea/Dessert Salon on Sunday.
I also got to hang out with my friend Rob Kimbro, who I worked with on Tempest back at McCarter Theater. He's awesome and just happened to be in town at the same time. We caught up on the past and talked about the Secret Project we are working on.