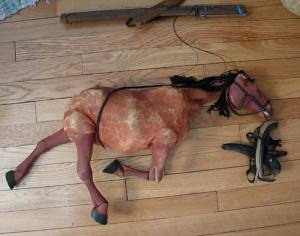 Rolande Duprey documents the process of repairing an historic marionette. It's fascinating and with beautiful photos.
Paul McPharlin, sometimes called "the Father of American Puppetry" built a marionette covered wagon with a team of two horses and a driver for the 1933 Chicago World's Fair "A Century of Progress".

Many years later, the horses and driver were discovered at an elementary school in Michigan by Fern Zwicky, who recognized them as having been at the "transport" exhibit at the fair. She gave them to John Miller, who kept them in his collection as she had found them. In the 1970's, one of the horses, that was in fairly good shape, was photographed by Time/Life for a book on puppetry.

The other horse was missing a foreleg and hoof. In the spring of 2008, John's widow, Marilyn O'Connor Miller asked me to repair the horse's leg. I brought it to the O'Neil Puppetry Conference, where Phillip Huber and Jim Rose could help give advice on how to go about the repair.