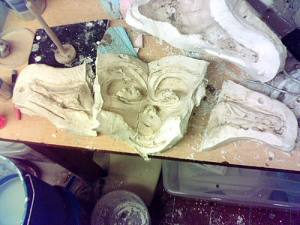 I'm going to try to use an analogy to explain how frustrating it is when you are working on a puppet and it breaks right before you finish.
Imagine that you are almost finished with a short story or novel, you've been very careful and been backing it up as you go. Something goes wrong with your computer and it catches on fire, singeing your fingers. In pain, you grab the fire extinguisher to put it out, which you do, but the exhaust also clogs your backup hard drive and causes a colossal failure, wiping out not just the scene you were working on, but the entire story.
To skip the analogy, here's my day thus far. We went to open the mold for the fog witch's face and it cracked in four places. The two part mold is now five parts. One of the shims had shifted during the course of making the mold ((I think, I didn't make it so I'm guessing)) and wound up on the wrong side of an undercut. So, even if I can repair the mold, it's built so that I wouldn't be able to pull the pieces free after casting them.
Frustrated, I turn to work on the control and ignore the mold. While putting the piece of wood into a vise, I managed to slice the palm of my hand with… I'm not sure what. I was just bleeding and had this stigmata. So, I get that patched up, and head for the bandsaw, which jumps off the track five times or so and finally just breaks.
I have to turn the puppets in tomorrow ((later today)) so this means that I'm cutting things out by hand. Why am I blogging now? Because I thought it prudent to express my frustration before I pick up a cutting instrument.
I blithely commented that this is why I like writing, because when you screw up a scene you don't bleed on the page. A couple of other writers commented back that they bleed while writing. Figuratively, yes, I'll buy that. But seriously, I never have this level of frustration even when a story is misfiring. It just seems so much easier to deal with because I don't have to deal with physics and the laws of nature in the same way.
I mean, if something goes wrong on the page, I can solve it by just thinking hard at the problem. With puppets, if something goes wrong, there's a whole host of physical problems that I can't fix by sheer will and imagination. Aside from the physical considerations, the process of puppet building and writing are very similar. In fact, when I'm in the midst of a design, my writing productivity goes way the heck down, because it uses the same muscle as design does.
Le sigh… I can't wait until this is finished and I can get some serious writing in. Speaking of, it's time I go back to the puppet.