Wistful Writings: Prime Codex – Review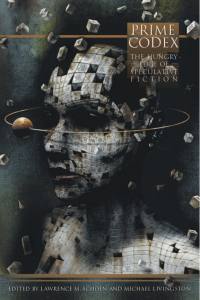 Paul Abbamondi just reviewed Prime Codex the anthology from Paper Golem that I have a story in.
A short piece that is positively sure to get you to mutter "a-ha!" at its cruelly twisted reveal, "Rampion" by Mary Robinette Kowal is the sort of story that is most enjoyable on its first read. Read it without distractions, and enjoy.
He says equally nice things about the rest of the anthology and closes by saying:
Prime Codex has a bit of everything as well: from crisp offerings of science fiction to haunting tales of pure, magical fantasy, everything within is worthwhile. An excellent debut from Paper Golem, with smart choices from Lawrence M. Schoen and Michael Livingston. Come on, order your copy.
My sentiments exactly.