"The Wind Comes" — I'm writing Kvothe erotica fanfiction for Worldbuilders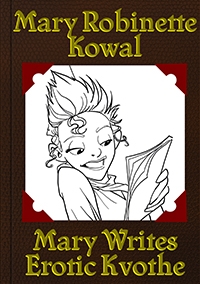 When Patrick Rothfuss emails you and says "Would you like to–" your answer is yes, regardless of the rest of that sentence. In this case, he asked if I'd like to offer a stretch goal for Worldbuilders, which is a fantastic charity that raises money for Heifer International. He said I could do anything so…
This is Kvothe fan fiction erotica written by Hugo-award winning author Mary Robinette Kowal. You might remember Mary from beating Pat in the #TheRealRothfuss contest… The story will be posted as soon as possible and then Mary, who is also a professional audio book narrator, will cosplay as Kvothe and read it aloud.
Y'all go and donate. Now.
I'll wait.
And then I have some fiction to write.