Why I am considering never driving anywhere, ever again.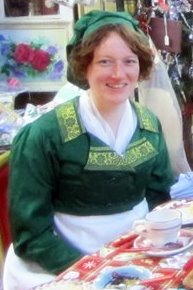 Today was Jane Austen's Birthday and as part of the celebrations, I headed out with the Oregon Regency Society for tea.  We were all dressed in our nicest afternoon outfits and I decided to drive rather than chance public transit in my white sprigged muslin.  One must take such pains when laundering it that I thought the effort saved justified taking the Mercedes out.  This is the first time I've driven it since my Seattle adventures.
It was such a lovely afternoon that we decided to head to the bookstore afterwards.  Miss C– offered to drive us all in her car promising to drop us back at the tea shop afterwards.  This was really the first time, outside of a convention, that I've gone out in my Regency outfit. It confused the mundane shoppers, I think. They all thought we were off-duty carolers even though caroling is Victorian which is not the same thing as the Regency.
When we went back to the teashop, my car was not there.
There was a large sign that said that the lot was for patrons of the teashop and that everyone else would be towed. Even though I had a receipt from said shop in my reticule, I called the towing company. They had my car and for a mere $252 they would release it to me.
The shop itself was closed so I couldn't cry foul to them.
We drove to the lot the towing company directed us to and met a tow truck coming out of the gated area.  The driver looked befuddled as he had just dropped off my car and didn't see how anyone would have had time to call.  We must have arrived back at the tea shop about five minutes after he left with my car.  He couldn't help me. The towing company was shut and only had an answering service available with no way to reach a decision maker. So we stood there, four women in Regency dress, while I paid the $252 so that I could go home.
Rob made dinner and a martini for me and we watched The Wire for a little catharsis.
I'll be having a phone call tomorrow. Oh yes. Yes, I will.
And next time? Considering that my transit karma is now affecting in-town travel, My Regency dress and I will be taking the bus.
Edited to add at 10:59 am, Friday: The teashop is closed until noon, so I tried calling the towing company at 10:46am.  The gentleman who answered the phone said that towing company only has dispatchers and requires one to fill out a form on their website which "they deal with every couple of days."  The managers are all out driving trucks and "don't have time to pull their trucks over to deal with complaints."
I have filled out the form and said, "I had tea at Tea Thyme and Lavender on Thursday evening and have a receipt time-stamped if you need proof that I was there at 5:50. The store closes at 6pm. My friends and I ran over to Powell's and decided to take one car. When we returned, less than an hour later, my car had been towed.  We arrived at the lot as the driver was pulling out of it from dropping my car. I believe that my car was improperly towed as I was a customer of the establishment it was towed from.  I had no way to dispute this that night, so I would like you to reverse the charges on my card now."
Edited to add:  I called the shop again and spoke to one of the women who was there last night, I think one of the owners.  She said that they did not call the company but that the towing company routinely comes by and tows any cars left there. "I'm so embarrassed but we have these big signs…"  I think her position is that, because it was after hours, I was no longer a customer and that it is my fault the car was towed. If I had told them that I was leaving the car, they would have put a note on it that I was a "legitimate" customer.  I pointed out that I had no way to know that I needed to do this.
She called the towing company (Retriever Towing) and "Chuck" said that he was looking at my email and would respond.
Edited to add: Brief update – Both companies say that the fact that my car was towed was my fault because once the store closed I was no longer a customer.
Further updates are in my post "Updates to the situation with the towed car."