The Jolly Book of Fun Craft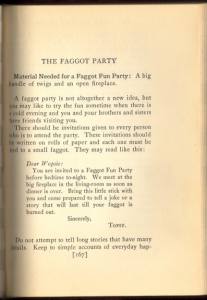 I collect etiquette books, so if you ever need to know what kind of gloves to wear to an afternoon wedding in 1851 or the proper way to say goodbye to a guest in 1907, come to me. One of the prizes in my collection is The Jolly Book of Funcraft by Patten Beard in 1918. It is a book of ideas for parties and the table of contents includes such things as:
The Party Made From Almost Nothing At All
The Thanksgiving Fun Making
Carrot Fun
A Plasticine Party
The Faggot Party
Oh yes, my dears. What could be more fun, than a Faggot Fun Party.
[audio:faggotfunparty.mp3]
The thing that makes me laugh most, is the stunning poem at the end and the way it shows just exactly how much words have changed.