Subterranean Press » Announcing SCENTING THE DARK AND OTHER STORIES by Mary Robinette Kowal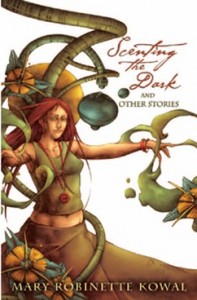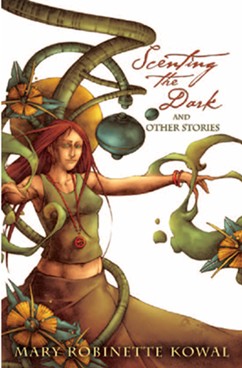 Ladies and gentlemen, allow me to introduce you to my first collection, Scenting the Dark and Other Stories.  I've loved Subterranean Press for a long time now and can't describe how ecstatic I am about this little book. The cover art is an original by Sandro Castelli and the book design is by Gail Cross. You can't see the interior yet, but in pdf form it makes me long to have the pages in my hands. So beautiful.
We here at SubPress are fans of elegant small collections such as Antiquities by John Crowley or The Devil in the Details by James P. Blaylock and Tim Powers. Our latest offering fits solidly in that mode. Scenting the Dark and Other Stories, the debut hardcover by Campbell Award-winner Mary Robinette Kowal packs a powerful 25,000 words into its roughly 100 pages. Do yourself a favor and check out one of our finest new short story writers — and novelist, as Mary just sold a pair to Tor (Congrats!)
I'm just delighted.