Paint drying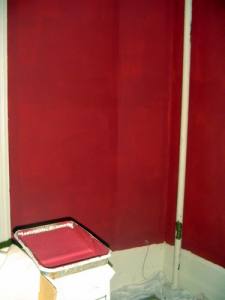 Really. Is there anything else to say about today?
Well, actually there is, because I got some news about three different exciting projects none of which I can tell you about. Gah! So, for the moment, you'll just have to watch the paint dry.
La la la.
Oh, and no, the news is not about selling a novel–I've had two different people guess that, so I figure I can save you that much. Nor is it about going back to Iceland.

Here is the wall of the dining room that is finished. We finally pulled Rob's Magnapan speakers out of their boxes. In Portland, we didn't have anywhere we could put them that was cat safe. I mean really, to a cat, those are not high end speakers, but the perfect scratching surface.
The table is not in view now, because it's to the left of the photo under a sheet. I'm still painting. The color requires three coats each of which have to dry for a couple of hours before I do the next. I have one coat left on the wall I'm working on, and then there's one more left to do.
Isn't drying paint fascinating?
Look! A new lighting fixture. That's much shinier than anything else that I could possibly be talking about now. It glows!