New Shimmer magazine!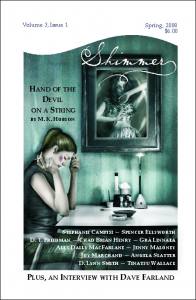 Check out the brand new issue of Shimmer!
Our 9th issue, now available! We've got 100 pages of Shimmery goodness in this issue: eleven new stories by authors including M. K. Hobson, Angela Slatter, and Stephanie Campisi; an interview with Dave Farland, a Lucy cartoon by Chrissy Ellsworth, and terrific art from Aunia Kahn (check out that cover!) and Sandro Castelli.
I'm delighted with this issue. Once again we are incredibly fortunate to have such skilled artists working for us. They make me very proud.