My Favorite Bit: Warren Hammond talks about DENVER MOON: THE MINDS OF MARS
Warren Hammond is joining us today with his novella Denver Moon:The Minds of Mars, co-authored with Joshua Viola. Here's the description:
Once considered humanity's future home, Mars hasn't worked out like anybody hoped. Plagued by crime and a terraforming project that's centuries from completion, Mars is a red hell.

Denver Moon, P.I., works the dark underbelly of Mars City. While investigating a series of violent crimes linked to red fever—a Martian disorder that turns its victims into bloodthirsty killers—Denver discovers a cryptic message left by Tatsuo Moon, Mars City co-founder and Denver's grandfather. The same grandfather who died two decades ago.

Twenty-year-old revelations force Denver on a quest for truth, but Tatsuo's former friend, Cole Hennessy, leader of the Church of Mars, has other plans and will stop at nothing to keep Denver from disclosing Tatsuo's secrets to the world.

Hell-bent on reclaiming her grandfather's legacy, Denver—along with her AI implant, Smith, companion android, Nigel, and shuttle pilot, Navya—set out on a quest to find the answers they hope will shed light on the church's true agenda, the origin of red fever, and the mysteries surrounding Tatsuo's tragic death.
What's Warren's favorite bit?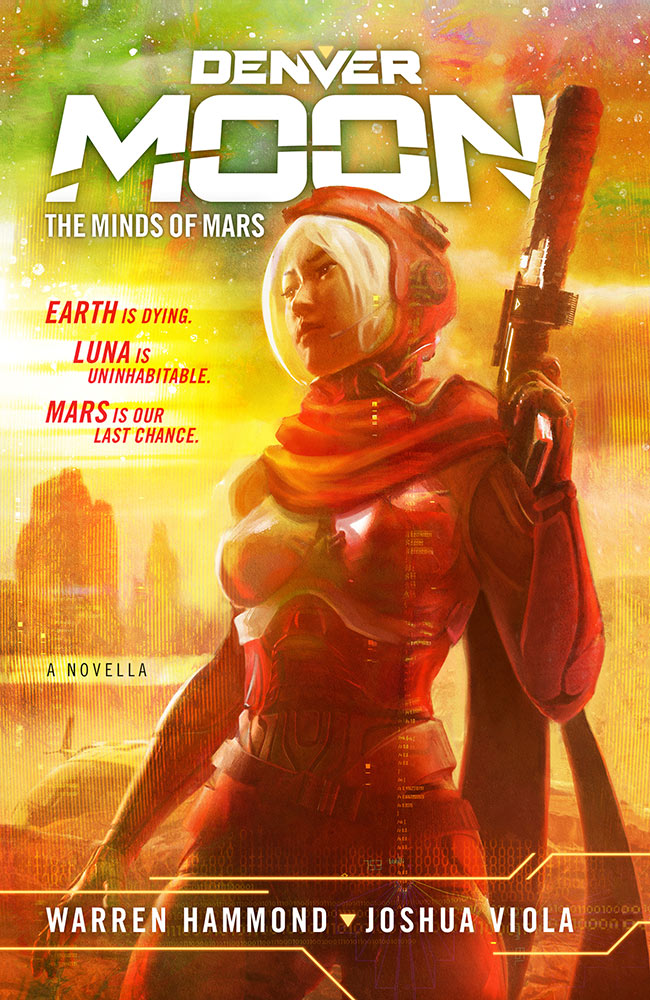 WARREN HAMMOND
My favorite bit of Denver Moon: The Minds of Mars wasn't my idea. It was my co-author, Joshua Viola, who came up with the idea of using a gun as Denver Moon's sidekick. "The gun has been installed with an AI," he said. "And Denver talks to it when she does her PI work."
The thought of a talking gun made me smile. From the very beginning, Josh and I wanted to have fun with this project, and making a gun into a primary character sounded like…well, fun. I suggested we name our AI-in-a-gun sidekick Smith, because the gun is a Smith and Wesson. That elicited a grin, and we were off to the races, running with a good idea like all writers do.
That's the exciting part of a collaborative project. Josh and I both bring good ideas, but those ideas become so much more special when we bounce them off each other, and they morph, and shift, and inspire unexpected turns that far exceed our original thoughts.
The next idea was this: the AI-in-a-gun sidekick carries the memories of Denver's dead grandfather, the founder of Mars colony. Thanks to this addition, Smith began to grow a personality. Unable to keep himself separate from the memories he carries, he now had his own thoughts and feelings. He was no longer a smoother-talking version of an Amazon Echo or Apple Siri. He was now a fully-realized character who, we decided, would often have an agenda all his own.
And what if Denver gets annoyed when Smith acts too much like her grandfather? What if, among her grandfather's memories, Smith finds a message implying Denver's grandfather might not be dead?
Ideas work like that sometimes. One leads to the next, which leads to the next, until they seem to take on a life all their own. Adding layer after layer to Denver and Smith's world, we built the foundation for Denver Moon: The Minds of Mars as well as a three-issue comic book series named Denver Moon: Metamorphosis. We debuted the comics recently at the Denver Independent Comic & Arts Expo, where we received an unexpected gift.
It was during a quiet period at the Hex Publisher's booth that a young man picked up the first issue of the comic book series. Silently, he read a few pages as both Josh and I—tired from a long day— sat quietly behind the table. But then the young man started to chuckle. Speaking to himself, he said, "She's talking to her gun."
Hearing those words, I smiled, too, just like the first time I heard it.
LINKS:
Denver Moon: The Minds of Mars Universal Book Link
BIOS:
Warren Hammond grew up in the Hudson River Valley of New York State. Upon obtaining his teaching degree from the University at Albany, he moved to Colorado, and settled in Denver where he can often be found typing away at one of the local coffee shops. He is known for his gritty, futuristic KOP series from TOR Books. By taking the best of classic detective noir, and reinventing it on a destitute colony world, Warren has created these uniquely dark tales of murder, corruption and redemption. KOP Killer won the 2012 Colorado Book Award for best mystery. Always eager to see new places, Warren has traveled extensively. Whether it's wildlife viewing in exotic locales like Botswana and the Galapagos Islands, or trekking in the Himalayas, he's always up for a new adventure.
Joshua Viola is an author, artist, and former video game developer (Pirates of the Caribbean, Smurfs, TARGET: Terror). In addition to creating a transmedia franchise around The Bane of Yoto, honored with more than a dozen awards, he is the author of Blackstar, a tie-in novel based on the discography of Celldweller. His debut horror anthology, Nightmares Unhinged, was a Denver Post and Amazon bestseller and named one of the Best Books of 2016 by Kirkus Reviews. His second anthology, Cyber World (co-edited by Jason Heller), was an Independent Publisher Book Awards winner and Colorado Book Award finalist and named one of the Best Books of 2016 by Barnes & Noble. His short fiction has appeared in The Rocky Mountain Fiction Writers' Found anthology (RMFW Press), D.O.A. III – Extreme Horror Collection (Blood Bound Books), and The Literary Hatchet (PearTree Press). He lives in Denver, Colorado, where he is chief editor and owner of Hex Publishers.