My Favorite Bit: Leanna Renee Hieber talks about THE SPECTRAL CITY
Leanna Renee Hieber is joining us today with her novel The Spectral City. Here's the publisher's description:
In turn-of-the century New York City, the police have an off-the-books spiritual go-to when it comes to solving puzzling corporeal crimes . . .

Her name is Eve Whitby, gifted medium and spearhead of The Ghost Precinct. When most women are traveling in a gilded society that promises only well-appointed marriage, the confident nineteen-year-old Eve navigates a social circle that carries a different kind of chill. Working with the diligent but skeptical Lieutenant Horowitz, as well as a group of fellow psychics and wayward ghosts, Eve holds her own against detractors and threats to solve New York's most disturbing crimes as only a medium of her ability can.

But as accustomed as Eve is to ghastly crimes and all matters of the uncanny, even she is unsettled by her department's latest mystery. Her ghostly conduits are starting to disappear one by one as though snatched away by some evil force determined to upset the balance between two realms, and most important—destroy the Ghost Precinct forever. Now Eve must brave the darkness to find the vanished souls. She has no choice. It's her job to make sure no one is ever left for dead.
What's Leanna's favorite bit?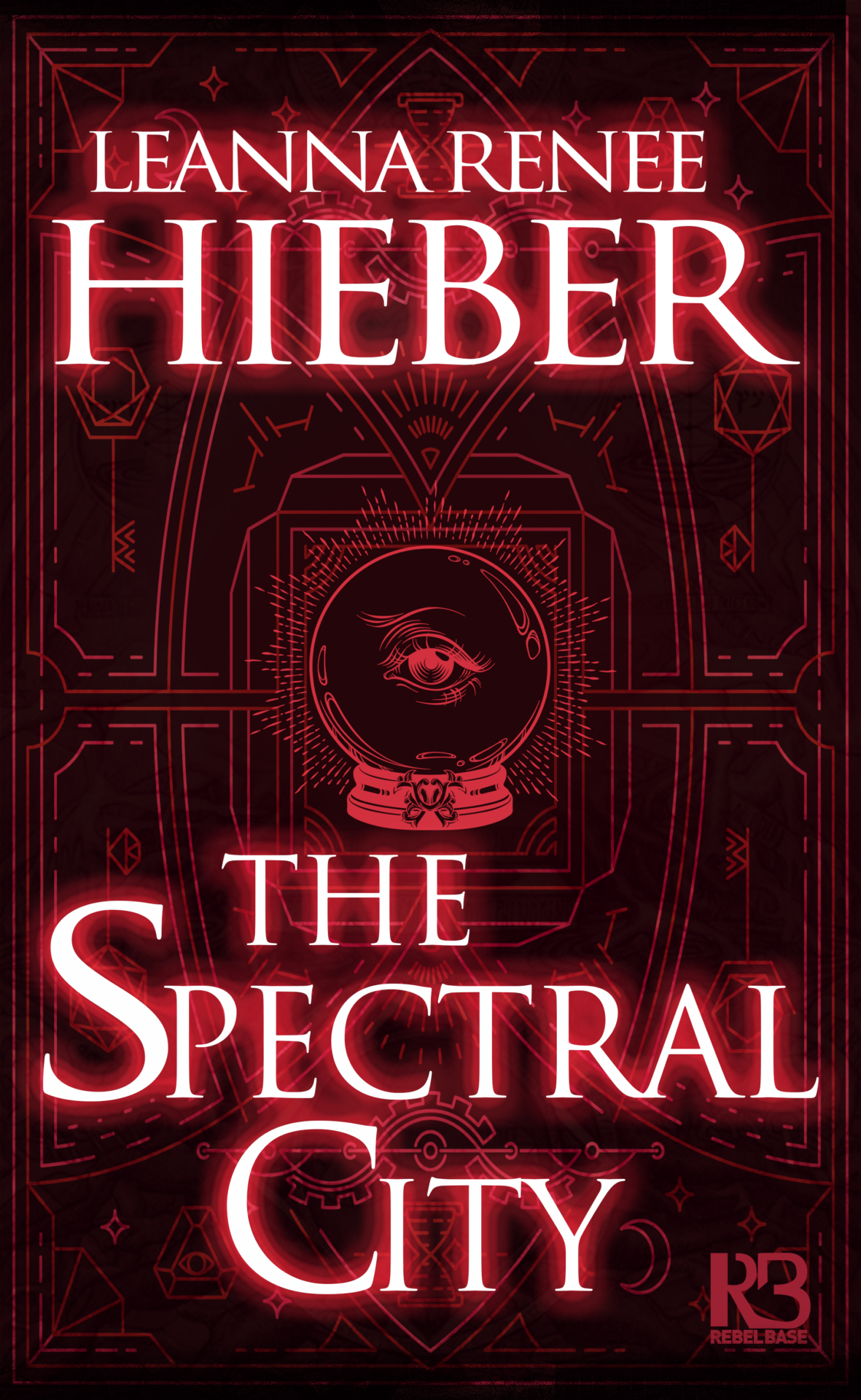 LEANNA RENEE HIEBER
Firstly, thanks to Mary Robinette for the generosity of this space and to this wonderful platform of authors sharing tidbits of their heart, and for you, dear reader, for your presences.
I've eleven Gaslamp Fantasy novels to my name and in each of them, I'm most driven by character relationships of all kinds and from all backgrounds. My very favorite relationship to explore is between dynamic mentors and promising mentees. In The Spectral City I feature a force of nature across several of my series, Evelyn Northe-Stewart; a matriarch now in her mid-sixties, a sensitive, psychic, medium, linguist, philanthropist and above all, an epic mentor. I wanted to explore the idea of a mentor serving additionally as a best friend. I did this with Evelyn's nineteen-year-old granddaughter and namesake, Eve Whitby. "Gran" is the light of Eve's life and when she goes missing, Eve turns to another of Gran's powerful mentees to help find her. The memory that comes to Eve's mind when prompted to think of her, so that Gran may be psychically found by these two talented mentees, is my favorite bit.
From The Spectral City:
"Where is Evelyn, what's happened?" The sharp voice came from around the corner. Clara Templeton-Bishop strode forward in a light blue day dress, standing before a stained-glass angel, taking on its wings, her body surrounded in the golden light, a radiant aura. Clara would always strike a bit of awe and fear in Eve, and she gaped a moment at the fierce creature who was lit without and within before remembering her words.

"That's what I'm here to find out. I . . . I've reached out," Eve said, gesturing clumsily at her own head, "and I can't find Gran. I'm . . . we're tied, she and I . . ." Eve continued, tapping her forehead, blushing because she could hear how inelegant she sounded but bumbled on anyway, unable to hold back tears. "I feel nothing and the spirits say nothing and . . . Gran left her house this morning with a woman in mourning and she hasn't been back. I don't dare wait to see if it's all a happy mistake. Not when I can't feel her, that may sound mad—"

"Hardly. We are each deeply connected to this woman, more than a mother or mentor combined; she means more to us than we even dare acknowledge," Clara replied and strode forward to stand a few feet from Eve. The woman's dark blonde hair with greying shocks was swept mostly up, save for small wisps around her head that floated in an ethereal manner. Her eyes were green-gold and wide in the gaslight, luminous peridot piercing Eve to the core. "Her being so precious to us, so irreplaceable, and so much a part of us means we can find our North Star. Just you and me. Follow me into the Parlor."

Clara gestured and darted, her movements like a bird, into the open parlor whose gauzy lace curtains were drawn shut though sunlight made everything glow. In the parlor, Clara sat in a tall wicker chair, spokes emanating from her back to continue a theme of sharp radiance. She gestured for Eve to sit on the low, velvet-covered stool before her. As she did, Clara gave her careful instructions and Eve followed them. "Close your eyes. Put your palms on your knees, facing up. Focus on Evelyn. Think of anything and everything that means her. Feel her touch, hear her voice, and hold on to your fondest reminiscence. Relive it."

Tears poured immediately down Eve's flushed cheeks as a memory grabbed her by the throat.

She was seven, lying in bed trying to sleep and the spirit world was swooping down around her like diving birds pecking at her skull, all of them desperate for attention and chattering away, Eve having no idea how to order her mind to keep them at arm's length, the air before her a fog of ethereal light. Eve had tossed and turned, weeping, mumbling for them to leave her alone. This escalated until little Eve was screaming.

"Shut up, shut up, shut up!"

As if she had just appeared there, landed there as if dropped from the sky, Eve was scooped up into her namesake's silk-covered arms as Gran bellowed a command. "Peace!" And the spirits dispersed at her demand.

Gran lay Eve back down on the bed, but Eve wouldn't let go. So Evelyn bent over her. Eve remembered she was in a beautiful saffron dress, arching over her like a protective ceiling of satin, lace and lilac perfume. Gran stayed like that, her warrior protectorate in a fine ball gown, until Eve fell asleep.

Eve felt Gran, touched her, smelled her in this memory, and she wept now, just as she'd done as a child.
I hope you'll enjoy The Spectral City and I hope you'll tell a mentor or loved one of yours today how much they mean to you.
LINKS:
The Spectral City Universal Book Link
BIO:
Leanna Renee Hieber is an actress, playwright and the author of eleven Gothic, Gaslamp Fantasy novels for adults and teens. Her Strangely Beautiful saga hit Barnes & Noble and Borders Bestseller lists and garnered numerous regional genre awards with revised editions available from Tor Books. She is a four-time Prism Award winner for excellence in cross-genre fantasy with romantic elements and Darker Still was a Daphne du Maurier finalist. Her short fiction has appeared in numerous notable anthologies and her books have been translated into many languages. A proud member of performer unions Actors Equity and SAG-AFTRA, she lives in New York City where she is a licensed ghost tour guide and has been featured in film and television on shows like Boardwalk Empire and Mysteries at the Museum. Her new one-woman show By the Light of Tiffany channels 19th century designer and visionary Clara Driscoll. She is represented by Paul Stevens of the Donald Maass agency.