My Favorite Bit: John Picacio talks about The 2014 John Picacio Calendar
John Picacio is joining us today with his calendar, now on Kickstarter.
What's John's favorite bit?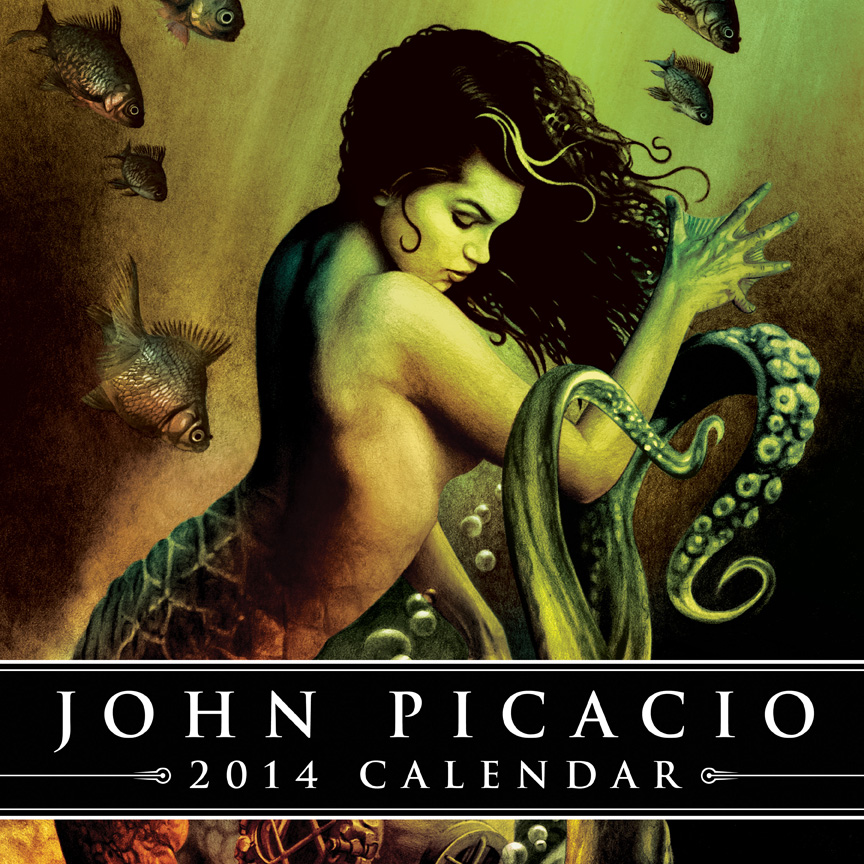 JOHN PICACIO
Let's have some fun here.
How many of you have played the classic Mexican game of chance called Loteria? How many of you have even heard of it? Surprise me in the comments if you have. I don't expect many of you to say 'yes'.
For those that haven't — Loteria is played much like Bingo, except instead of numbers and letters, it features a set of iconic images on a deck of cards. When I was a child growing up in San Antonio, I played this game with my mother and my grandma. As I grew older, I lost touch with the game, but not the images. They're everywhere. You've probably seen them and didn't realize where they came from.
La Rosa. The Rose. El Mundo. The World. La Sirena. The Mermaid. La Luna. The Moon. El Muerte. Death. There are many more — 54 cards in the traditional Loteria game deck.
They've been appropriated in so many ways, but never in a modern, science fiction/fantasy way. Until now…..
The 2014 John Picacio Calendar features my first twelve new artworks inspired by Loteria. With your help via Kickstarter, it will soon exist.
My favorite amongst these works so far? Tough choice.
The cover art features "La Sirena", which won the Chesley Award this year for Best Product Illustration. As proud as I am of that, and of the artwork, my favorite bit right now is "El Arpa", the featured art for September in the new calendar.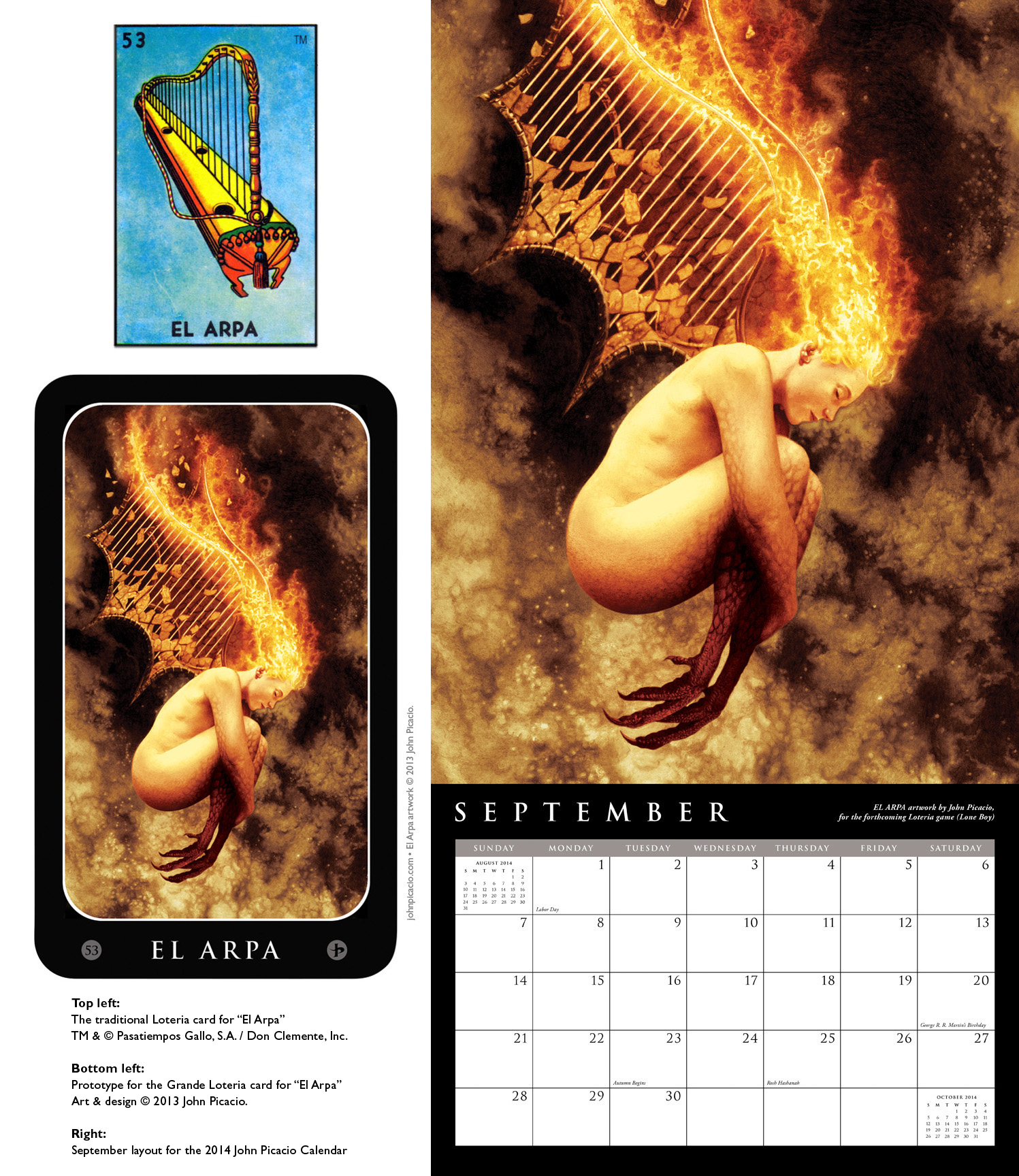 "El Arpa" means "the harp". When you see the traditional side-by-side with my new version, I hope it's clear that the two versions are born of the same roots, but mine is headed toward an entirely new experience that Loteria has never seen. The trick to creating my new artworks is that they must be recognizable at a small scale — iconic to their respective namesake, and yet rich with new possibility and storytelling.
The 2014 John Picacio Calendar will only be available exclusively via this Kickstarter, and the campaign expires November 14, 2013. After that, there are no plans for these calendars to be available anywhere else online because they will be a limited-run item. Additional rewards include original artwork, sketches, signed pencils, and Grande Loteria cards.
What are Grande Loteria cards? They're my Loteria artworks featured on cards that resemble humongous, oversized tarot cards (4.5″ x 7″) — a special edition not intended for gameplay but as a deluxe art object — and the first of those cards debut as pledge elements and stretch goal rewards with this funding effort.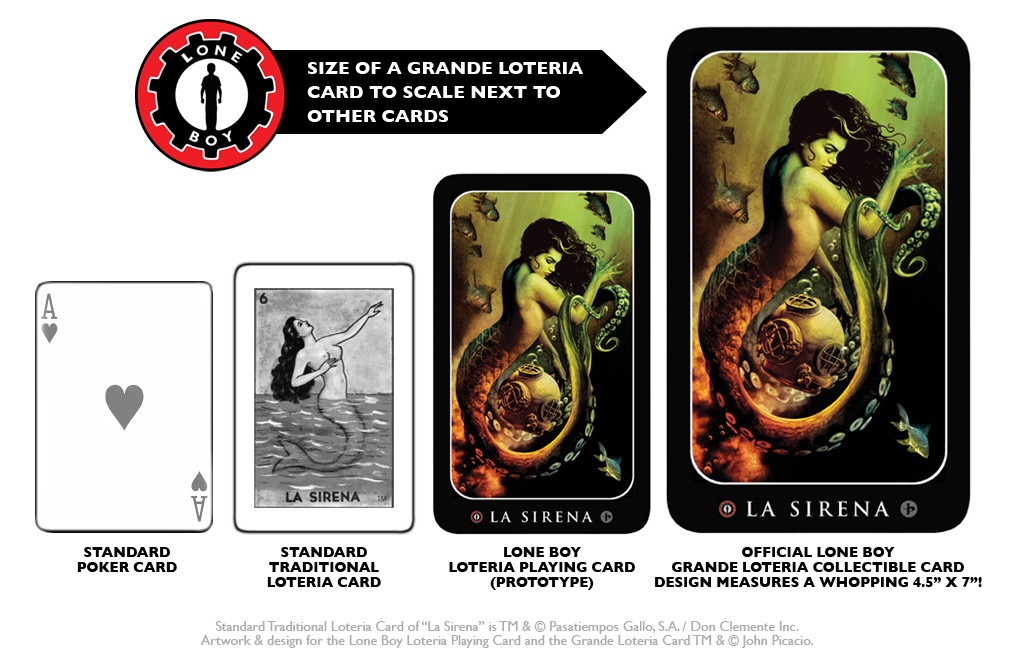 Every time we hit a new stretch goal, all backers pledging $50 or above receive an all-new Grande Loteria card to add to their stash. It's going to be a blast seeing how many of those collectibles everyone racks up for free with their packages.
Jump aboard — and save money — while we still have Early Bird Reward packages.
http://www.kickstarter.com/projects/1143812835/the-2014-john-picacio-calendar
I can't believe 2013 is headed down the homestretch. Let's work together to make a better world in 2014.
LINKS:
www.johnpicacio.com
www.lone-boy.com
twitter.com/JohnPicacio
BIO:
JOHN PICACIO is the 2012 & 2013 Hugo Award winner in the Best Professional Artist category. He's best known as one of the most prolific American cover artists for science fiction, fantasy, and horror of the last ten years, including the best-selling 2012 calendar for George R. R. Martin's A SONG OF ICE AND FIRE (Random House/Bantam).
His company Lone Boy houses his creator-owned art ventures and this 2014 Calendar will be its second offering. His accolades include the World Fantasy Award, the Locus Award, seven Chesley Awards, and two International Horror Guild Awards, all in the Artist category.