My Favorite Bit: Emily Devenport talks about MEDUSA UPLOADED
Emily Devenport is joining us today with her novel Medusa Uploaded. Here's a publisher's description:
Medusa Uploaded by Emily Devenport offers readers a fast-paced science fiction thriller on the limits of power and control, and the knife-edge between killing for revenge or a greater good.

My name is Oichi Angelis, and I am a worm.

They see me every day. They consider me harmless. And that's the trick, isn't it?

A generation starship can hide many secrets. When an Executive clan suspects Oichi of insurgency and discreetly shoves her out an airlock, one of those secrets finds and rescues her.

Officially dead, Oichi begins to rebalance power one assassination at a time and uncovers the shocking truth behind the generation starship and the Executive clans.
What's Emily's favorite bit?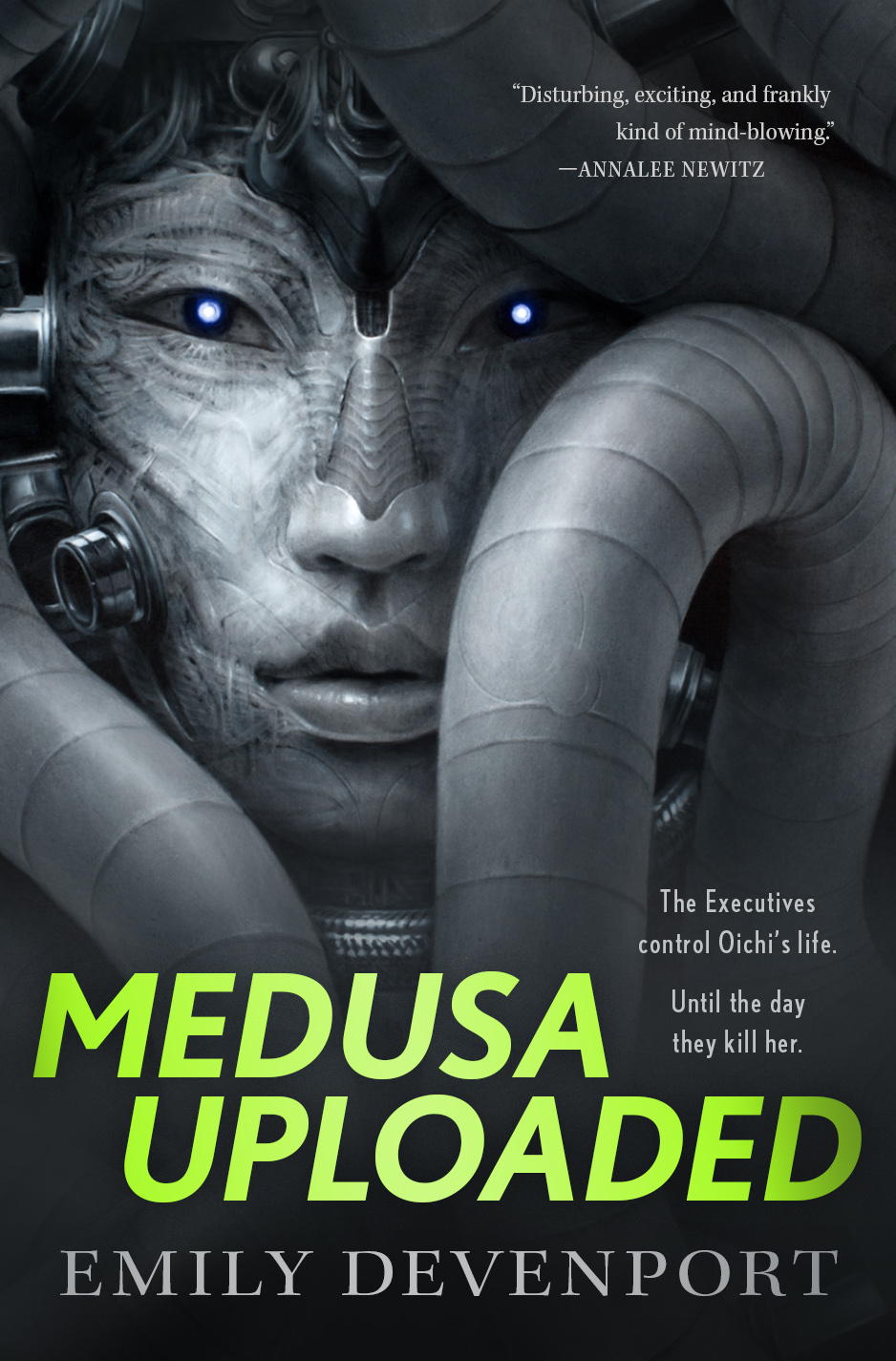 EMILY DEVENPORT
I'd like to tell you that my favorite bit of Medusa Uploaded was the science.  A generation ship called Olympia!  A colossal habitat that spins to simulate gravity, with an airy sector inside for growing crops!  Shazam!
And now that you mention it, that's pretty cool.  Imagining that gigantic inner space, with a horizon that curves up instead of down, is the sort of thing that used to inspire a sense of wonder in me when I was a kid.  It reminds me of that scene in Forbidden Planet, when you get the first glimpse of the vast, underground city of the Krell, still working after untold millennia.
A grand canvas like Olympia inspires Default Majesty Music.  For me, that's "Saturn, the Bringer of Old Age" by Gustav Holst, a piece played by full orchestra, with a relentless tempo that suggests the marching of a grim procession.  That music evokes the passage of Olympia through the vast gulf between the stars.
I love that stuff, but it's people that make a story.  To be more specific, it's people's talents, and flaws, and grand schemes, and what goes wrong.  And in a lot of my favorite novels (by other writers), it's murder.  The powerful ruling class on Olympia are fond of using airlocks to solve conflicts with uncooperative underlings.  They believe that keeps everyone in line.
But the people of Olympia are not what they seem.  Especially Oichi Angelis.  She was trained by her parents to be an insurgent against the brutal class society that dictates every step she takes, what she see and hears, even what voice she uses to speak.  And in Lucifer Tower, an unpressurized research center on the leading edge of Olympia, Medusa, a powerful AI born of ancient, alien technology, waits to wake her sisters and join the insurgents.  The intersection of Medusa and Oichi is my version of the Dream Team.  Together, they are deadly.  And that's pretty damn cool.
But that's not my favorite bit either.  As much as I love to see my own grand schemes come to life in a story, it's the unexpected things that I love best, the characters who show up unannounced.  In Medusa Uploaded, those unplanned characters are the Minis.  Because as fast, and clever, and deadly as Medusa and Oichi are, they can't control everything that happens on Olympia.  And even they have a soft spot for children.  Give those talented children the right tools, instruct them to build their own version of the Medusa units, and what do they come up with?  Dragonette, Kitten, Teddy and Rocket.  AI creatures made out of biometal, by children who may have gotten the wrong idea about what those units are for.
Or maybe it was the right idea.  The Minis are smart, brave, and able to navigate the inner and outer landscape of Olympia with ease.  They can climb the rafters in the House of Clans and spy on leaders without being noticed.  And they can sing show tunes.  Sometimes they come off like the children who made them; sometimes they're as clever as elves.  Sometimes they sound like your wise-ass grandma.
The Minis are my favorite bit.  They're not the only monkey wrench thrown into the plans of the good guys and the bad guys, but they're definitely the most fun complication that arises.  They're so much fun, they made it into the sequel.
Despite my intentions, the science, the murder, the Dream Team, and the Default Majesty Music all conspired to create the Minis.  I can't argue with their logic.  I can only wait to see what they'll come up with next.
LINKS:
Medusa Uploaded Universal Book Link
BIO:
Nine of my novels were published in the U.S. under three pen names. I've also been published in the U.K., Italy, and Israel. I have two new novels forthcoming from Tor: Medusa Uploaded (May 1, 2018) and an untitled sequel.
My short stories were published in ASIMOV'S SF MAGAZINE, the Full Spectrum anthology, The Mammoth Book of Kaiju, UNCANNY, CICADA , SCIENCE FICTION WORLD, ALFRED HITCHCOCK MYSTERY MAGAZINE, CLARKESWORLD, and ABORIGINAL SF, whose readers voted me a Boomerang Award. I'm married to artist/writer Ernest Hogan.
I'm a buyer for the Heard Museum book store in Phoenix. I'm studying geology, and I volunteer at the Desert Botanical Garden.