METAtropolis: Cascadia is a 2012 Audies Finalist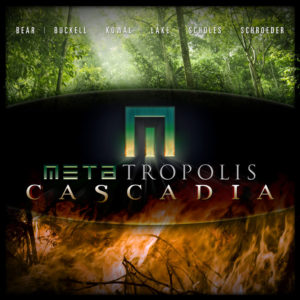 Boy! I like today. The audio anthology that Jay Lake edited for Audible.com has just been nominated for an Audie in the Original Work category. This is very exciting since I love audio fiction and the Audies are the premier award.
ORIGINAL WORK
Macbeth: A Novel, by A.J. Hartley and David Hewson, Narrated by Alan Cumming, Audible, Inc.
METAtropolis: Cascadia, by Jay Lake, Mary Robinette Kowal, Elizabeth Bear, Ken Scholes, Karl Schroeder, and Tobias S. Buckell, Narrated by Rene Auberjonois, Kate Mulgrew, Wil Wheaton, Gates McFadden, Jonathan Frakes and LeVar Burton, Audible, Inc.
The New Adventures of Mickey Spillane's Mike Hammer, Vol. 3, by Max Allan Collins and Mickey Spillane, Narrated by Stacy Keach and a full cast, Blackstone Audio
Prayers: A Personal Selection, by various authors, Narrated by Michael York, eChristian, Inc. Solaris, by Stanislaw Lem, Narrated by Alessandro Juliani, Audible, Inc.
The Witches of Lublin – Collector's Edition, by Ellen Kushner, Elizabeth Schwartz and Yale Strom, Narrated by Ellen Kushner and a full cast, SueMedia Productions
via Audiobook Blog – Audiobooker, by Mary Burkey – Booklist Online » Blog Archive » 2012 Audies Finalists announced.