Making the dead dog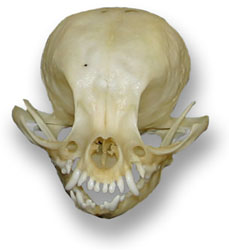 I'm starting by using a real skull for the dog head. I'd planned on just getting a resin dog palette, but lo! There's Skulls Unlimited has a giant collection of dog skulls.
Now, I'm not going to be using the Chihuahua skull in this picture, but had to share it with you. Does that not look like an alien? No wonder they so often look creepy.
I ordered a large B-quality domestic dog skull. Once it arrives, I'll enlarge a picture of a dog's skeleton to match the skull and use that for my scale rendering. It should be an interesting process.