Latest computer woe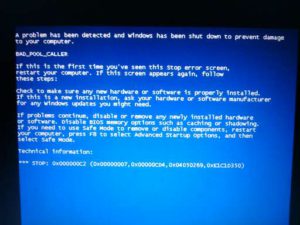 I've been struggling with my main computer for some time. That's part of why I got the eee pc. The Kowal Portable been crashing a lot and I was afraid to write on it because it would go down with no warning. I'd get a blue screen of death, but it always flashed past too fast to read. Last night after one of these, it wouldn't restart, so I decided to do a full system restore, back to factory settings. I back up regularly, so I haven't lost any data at least.
It hung twice during the restore, but the third one succeeded. And then, as I was still in the setup, it crashed, but this time the BSod hung around long enough to actually read. That's the lovely picture there. We've spent today trouble-shooting and have gotten as far as eliminating the RAM as the problem.
Meanwhile, I'm going to be using the eee as my primary computer. Fortunately, I can touch type on the thing, but it takes a firmer stroke than the Kowal Portable. In the short-term, we're going to get a new harddrive but in the long-term, I'm in the market for a new computer. Underneath the steampunk exterior, the Kowal Portable was an Averatec 1500.
I'm opening the floor for suggestions on a new laptop. For starters, don't suggest a mac; I'm happy being a pc girl.
It needs to be able to handle graphic design and some audio. I prefer a larger screen, but don't need a widescreen. I'll probably mostly travel with the eee, so I'm not as fanatical about it being thin and lightweight as I was before.
Besides that, the field is open. Your thoughts?