Krafla, Mývatn and Glaumbær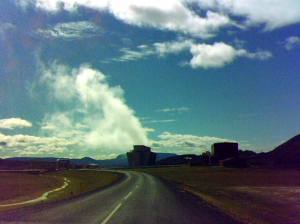 We left Dettifoss and rejoined the Ring Road heading back west. On the way we passed by Krafla, which Rob was very interested in for the geothermal power. None of my photos do justice to this giant science-fiction landscape. On one side of the valley, the hills are barren, on the other side, they are lush green. Steam vents everywhere, and a creek winds across the landscape with steam blowing off of it. Amid the endless pipelines, sheep wander. We headed up the mountain under an arch of pipes. Seriously, they've arched the pipelines over the road like a gateway.
At the top, we peeked at Víti which is a giant geothermal lake. Apparently people will make their way down the sides of the bowl to paddle, but it didn't appeal to us. The sides are really, really steep. While I'm sure that the climb down is fine, climbing out sounded less than relaxing.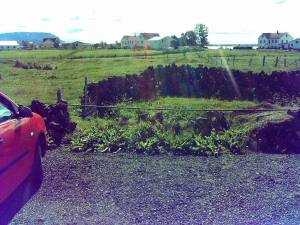 We went from there to Mývatn which means Midge Lake. The small midges are so thick that it honestly looks like steam swirling around. Fortunately, this is not the case at the Cowshed Cafe. It's a delightful little cafe in a, yes, cowshed. They still use the cow-shed for milking and make ice cream on the premises. The day was sunny and hot. I was wishing I had a short-sleeved shirt with me. For lunch, I tried two of the local specialties, a smoked salmon and hverabrauð. Hverabrauð is a very dense black rye bread which is baked in an underground oven. In several places in the region, the ground is so hot that if you put dough underground it will steam and become bread. Astonishing. The salmon was also tasty, although I had to put the process by which it is made out of my mind. Because of the shortage of wood here, for the smoking they use sheep dung.
Yes. You read that right. Sheep dung.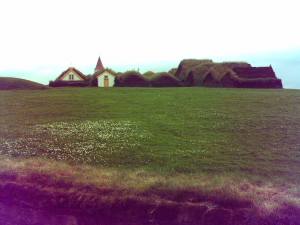 From there on, we had nothing remarkable until we reached Varmahlið, where we detoured about 5km off the ringroad to head up to
Glaumbær, a farm established in 1000 and in active use until 1947. Remarkably, the buildings are constructed of turf, clearly it's not 1000 year old turf, but apparently a well-constructed turf building can last a century or more. This was the most amazing place to tour. I highly recommend it, should you find yourself in Iceland.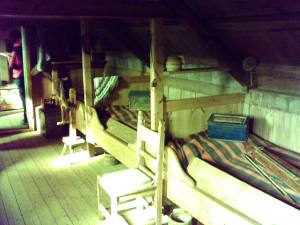 Among other things, the curators have not installed any artificial lighting so you get a good sense of what it was like to live there. To my surprise, it was not as dark as one would think a dirt house would be. In fact the main living area was positively sunny. As they explained in the brochure, the women slept and worked on the side of the room with the windows because their work required more light. The other thing I had not expected was that it was virtually soundproof. You would not hear marauding raiders easily if you were inside a turf house. There are more photos here.
From there, we headed back to Reykjavik. Ah, home.