Jane Austen's Pelisse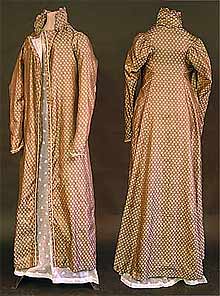 When I was trying to decide what garment I wanted to have made to go with my Regency dress, I was waffling between a pelisse and a spencer.  I spent a lot of time looking at the book Revolution in Fashion: European Clothing, 1715-1815
which has really gorgeous photos of the Kyoto Costume Institute's collection.  Really, really gorgeous.
We eventually settled on a spencer, but in the course of looking at reference photos I ran across this picture of a pelisse.
Actually, not just any pelisse, but one thought to have been worn by Jane Austen. Take a second and click through to the Jane Austen Centre to read about how they came by the pelisse and why they think it might be something she wore.  The article discusses everything from what colors were fashionable to diary references to the pattern of oak leaves on the fabric.