Here's our New Year's tradition. What's yours?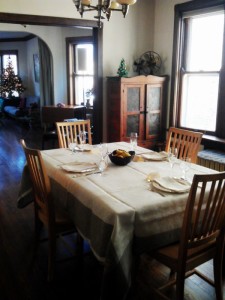 Last night, Rob and I closed out 2012 by making sushi and having a quiet evening at home. I'm not even certain how we started the tradition of making sushi at home for New Year's Eve, but that's what we do. This year was surprisingly difficult to find sushi grade fish in Chicago.
The first place that was recommended to us turned out to be twenty-miles away. So… we decided not to go there.
The second place was a Korean market that had everything else we needed but their fish selection was scant. We wound up buying a pre-packaged sashimi tray for the fish. It worked for our purposes, but we'll need to find a better solution for next year. Suggestions welcome.
New Year's Day however, that worked out exactly right. We swing from the Hawaii side of our marriage to the Southern side and have black-eyed peas, collards, and cornbread. With champagne and the good china, because that's how we roll.
I invited a neighbor who hails from South Carolina originally and totally got the vital, vital need for beans and greens on New Year's Day.
How about you? What New Year's traditions do you have and did you get to follow them this year?