Happy Fourth of July!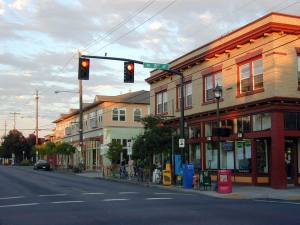 To celebrate, I thought I would share some pictures of my neighborhood back home. A friend took these a few days ago and sent them to me, I think as a way to tempt me back to Portland, OR. This is the cooperative organic grocery store that is three doors from our house. I miss being able to walk down, in the middle of cooking, to get whatever ingredient I had forgotten. I miss the Reed's Ginger Ice Cream that they have and the beautiful seasonal produce.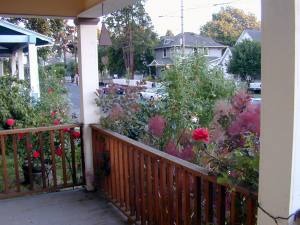 Here is our front porch, looking south. We never spent much time on the porch, because our street is on a bus line and faces west. In the evenings, after the sunset and I wanted to cool off, I would sometimes sit on the porch and write. I do miss walking out the door and seeing our roses. We could hear the fireworks downtown from the porch on the fourth, but not see them. But, upstairs, on the landing, we could see the fireworks in Vancouver. There was just space between the big cedar tree and our neighbor's house.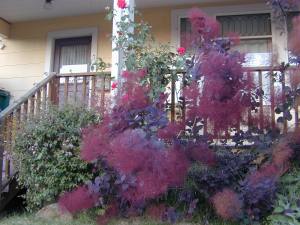 And here is the view that I would see on my way home in the summer. Eve convinced me to buy the purple smoke bush, knowing that it would go beautifully with the roses that were already in the yard. You can't see it, but over to the right are some wine barrels from Bethel Heights which we planted strawberries in. There are few things better than fresh strawberries, picked and eaten in the warm sun.