Happy Birthday, Grandma!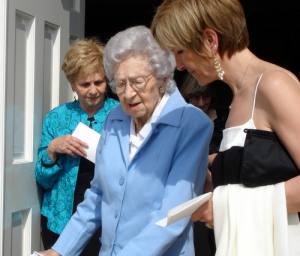 My grandmother, who still lives alone, is 103 today.
Granted, her kids take turns coming over to help with housecleaning, but she still cooks for herself. When I was home in the summer, she wanted to talk politics. She votes every election and is very adamant about doing so. It makes sense, I mean, she was alive before sufferage.
When we were home over Christmas, Rob and I took Mom's turn cleaning (since Mom was prepping for dinner for 24). Grandma asked us to make certain that we got things put back in the same place, if we had to move them. Rob vacuumed the living room and went off to do another room. When he came back into the living room, Grandma was moving her chair. This is not a little wood thing. This is a wingback recliner. My 103 year old grandmother was shoving it back into place and wouldn't let him help her.
I so hope I have those genes.
To celebrate, I thought I would share this collection of photography from a book called, Living in Three Centuries : The Face of Age.