Happy Birthday Dad!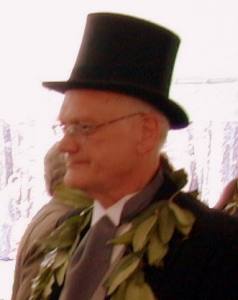 You've seen him in the comments as -d- but my dad is so much more than a couple of hyphens and a lower-case letter. He is exceptional.
So, to celebrate his birthday, I've got a thing I want you to do.
There's someone in your life who is exceptional. Tell him or her that that. Go on. Pick up the phone, write a letter or send an email. Heck, go out for coffee.
Let me tell you about my dad.
Over the past month, I've had the chance to meet a couple of my friends' parents. I've always had a good relationship with my parents — not counting the teenage years — but I thought that was normal. The older I get, the more I realize what exceptional, wonderful people they are. Rob and I were having this conversation after the last encounter with Other Parents and realizing how incredibly lucky we were. (His folks are great, too.)
My dad has always treated me like an intelligent person, even when I was really, really little. He's unfailingly patient about explaining things or figuring out problems. In fact, I'll send my tricky plot stories to him to "debug," because if there's a flaw in logic, Dad will find it.
When I was a kid, Dad helped me make a planetarium for science fair. It was the coolest use of a refrigerator box ever. Did I mention the electric organ that he made for me? From scratch! Not to mention his sheer brilliance at marrying my mom, who is also exceptional.
And he's been like that my entire life. When I toured through my home town, Dad took one look at my puppet stage and redesigned it. Then we built it in the driveway at home. His new design shaved 20% off our set-up time.
There's more. More than I could type if I spent weeks typing.
Dad is grand. Wonderful. He is an exceptional person. I'll be calling today to tell him that.
Now it's your turn. It doesn't have to be my Dad (unless you know him too) but get in touch with an exceptional person in your life.