Favorite childhood toy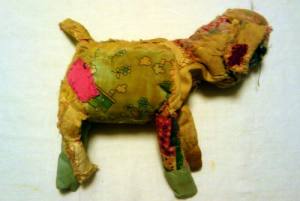 In the comments on the 100 things meme, David Loftus wrote, "Was particularly charmed by 'saved a favorite child toy' would love to know what that was for other folks."
You know what? I would too.
So let me introduce you to Lassie. That's the extremely tattered stuffed animal in the corner there. She's a lamb, and yes, everywhere that I went, the lamb was sure to go. One of my parents' friends made her out of a hand towel as a gift at a baby shower before I was born. The crazy quilt that she is now, is not her original fabric. Out of all the toys, presented to me, this was the one I latched on to. I carried her by a death grip around the throat everywhere.
Oddly, one of my clear early memories is naming her. Herschel [1. 1st cousin-in-law twice-removed] asked me what her name was. We were standing on the sidewalk outside some store and it was sunny, so I think it must have been while we were down at Easter. Until he asked, it hadn't occurred to me that she didn't have a name, or even for that matter that she should. But as soon as the question was posed, I realized that she should, of course, have one so I gave the only name that I knew for a pet. "Lassie." I think I'd recently seen it on television, because I did know that I was naming her after a collie.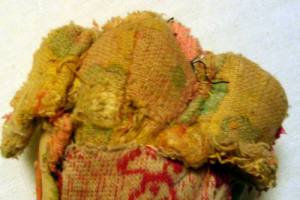 She sits on my desk now, in a little cubbie-hole. This bit here is the only original fabric left. Grandma taught me to embroider by stitching a new eye for her when the fabric on the side of Lassie's head wore out. She's stuffed with panty-hose.
When I was in kindergarten, we accidentally left her on top of the car when leaving school. I was deeply traumatized and Mom drove all over the place looking for her. She even took out an ad in the paper. Miraculously, someone found Lassie and answered the ad. I still have the ad, although it's in a storage locker. I wouldn't leave Lassie there though. Not after all this time.
So, how about you? Did you save a favorite childhood toy?