My Favorite Bit: Rachel A. Marks talks about FIRE AND BONE
Rachel A. Marks is joining us today with her novel Fire and Bone. Here is the publisher's description:
In Hollywood's underworld of demigods, druids, and ancient bonds, one girl has a dangerous future.

Sage is eighteen, down on her luck, and struggling to survive on the streets of Los Angeles. Everything changes the night she's invited to a party—one that turns out to be a trap.

Thrust into a magical world hidden within the City of Angels, Sage discovers that she's the daughter of a Celtic goddess, with powers that are only in their infancy. Now that she is of age, she's asked to pledge her service to one of the five deities, all keen on winning her favor by any means possible. She has to admit that she's tempted—especially when this new life comes with spells, Hollywood glam, and a bodyguard with secrets of his own. Not to mention a prince whose proposal could boost her rank in the Otherworld.

As loyalties shift, and as the two men vie for her attention, Sage tries to figure out whom to trust in a realm she doesn't understand. One thing is for sure: the trap she's in has bigger claws than she thought. And it's going to take a lot more than magic for this Celtic demigoddess to make it out alive.
What's Rachel's favorite bit?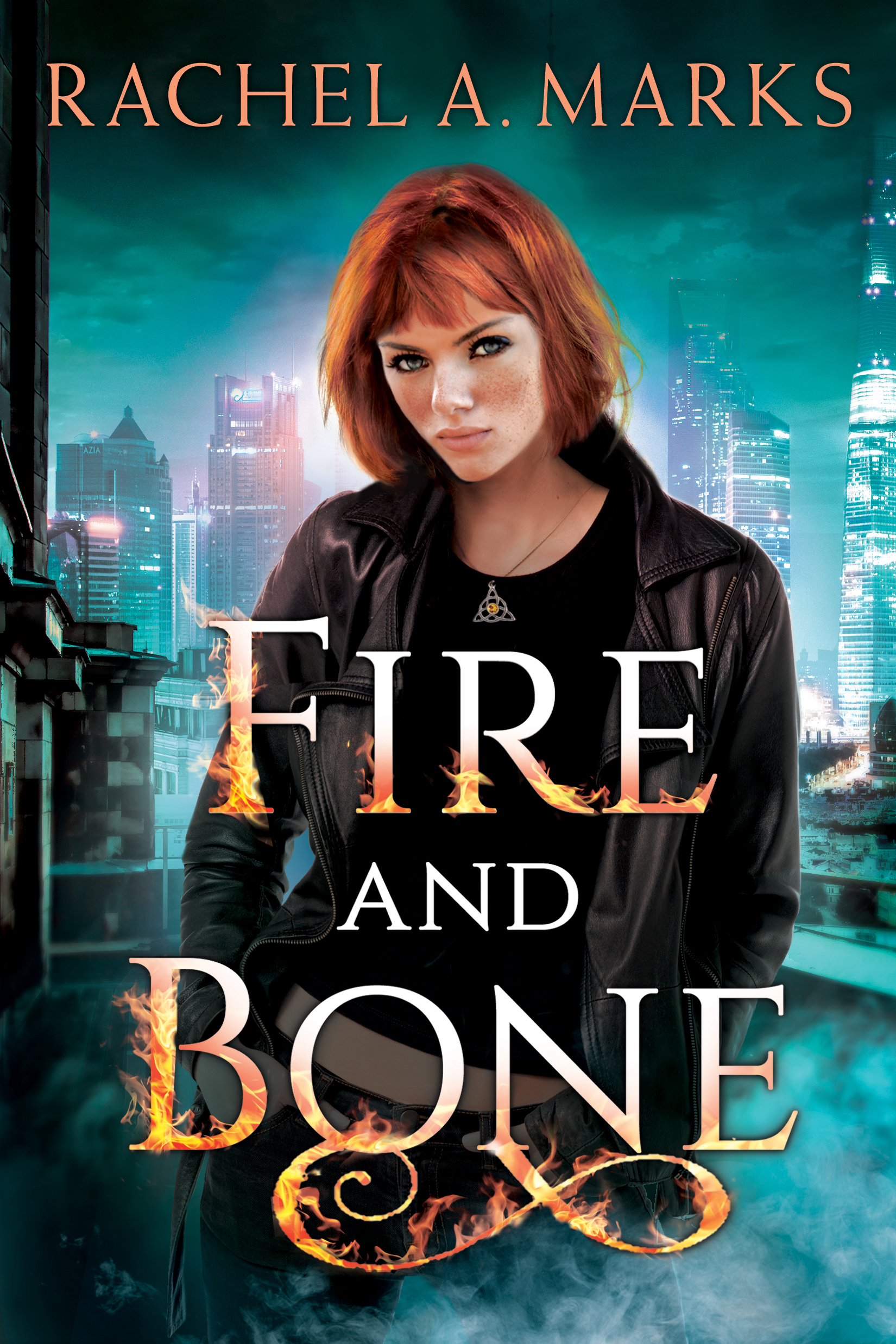 RACHEL A. MARKS
So much of creating Fire and Bone was one big ball of fun; the lore research, the world-building, the character dynamics. But my favorite bit to write was most definitely the banter. I admit, I love writing banter. But something about the way these characters bounced off of each other, the oddity of ancient gods meshing with the shallow nature of Hollywood glam, six-hundred-year-old demigods competing for power in the ancient order, as teen druids, with a weakness for label-wear, consider who to invite to the next gala.
All the while a dark legend is stirring beneath the surface.
As I wrote, the banter bubbled to the surface easily. Whenever the character views conflicted, or the irony of a situation presented itself, it turned into a crash of sass. Like Sage, our snarky heroine, who uses her wit to protect herself as she's confronted for the first time with the truth of her goddess heritage by Faelan (whose POV we're in).
"I'm going to take you to a safe place where there's a man who wants to help you," I say. "He's rich, very powerful. Under his protection, you'll learn where you come from and discover where you belong. The dark prince won't be able to control you and—"

She barks out a laugh, interrupting me.

"What's so funny?" I ask.

"Dark prince? Seriously?" She laughs again. "Can you even hear yourself?"

I study her and wonder if the potion that Star gave her was too strong. That pixie is so flighty.

The demi stands from the bed and folds her arms across her chest, looking guarded but determined. "Look, muscleman, I can buy this whole you're-not-who-you-think-you-are thing, since my life has basically sucked ass from the start and I'd love to believe that it was all some huge cosmic error. But you're trying to tell me I'm going to meet Daddy Warbucks, who will explain to me that I'm a weird alien or something? And he'll protect me from a dark prince? Pardon me if I don't leap to join your cult so I can get a chance at cushy digs. That's not my style."

"You're not an alien."
Sage has a way of taking everything that comes at her with a grain of salt, always keeping others at arms' length, and using the bite of her unaffected words to take people by surprise. And so, when she finally meets with the "dark prince" and his terrifying wraiths it's pretty well established that a little fear isn't going to knock her off her game right away.
"You shouldn't fear me," he says, way too close now. "I can give you your heart's desire."

"Right now I'd like a one-way ticket to Tahiti."

Confusion fills his features. "We don't rule in the south."

"Sounds perfect."
But my favorite points really come to the surface once Sage and Faelan have developed their rhythm. They've had a lot of tense moments with frustration and danger, and it's bonded them in a short time, allowing for an unlikely friendship.
"Wow, some warrior you are. Can't even stand up to a tiny teen girl."

"Aelia?" he asks. "That wee thing is terrifying."

"I bet you don't call her wee to her face."

"Gods, no."
When a book is full of looming danger and dark story threads, it's that much more refreshing when a little humor breaks through, letting us smile. The stark contrast of fear and wit in one space allow us to feel each emotion that much more. It's my favorite bit to read. And, most definitely, my favorite bit to write.
LINKS:
BIO:
Rachel A. Marks is an author, a professional artist, keeper of faerie secrets, and a cancer survivor. If her love of the ocean is any indication, she may have been a selkie in another life. But now she's a boring human and the author of the Dark Cycle series, which includes Darkness Brutal, Darkness Fair, and Darkness Savage. Her art can be found on the covers of several New York Times and USA Today bestselling novels. She lives in Southern California with her husband, four teens, three chickens, two precocious pups, two rats, and a kitty.