My Favorite Bit: Liz Duffy Adams and Delia Sherman talk about TREMONTAINE Season 3
Liz Duffy Adams and Delia Sherman join us today to talk about Season 3 of the serial fiction Tremontaine. Here's the series description:
Welcome to Tremontaine, where ambition, love affairs, and rivalries dance with deadly results.  In this serial, Ellen Kushner and a team of writers return readers to the world of scandal and swordplay introduced in her cult-classic novel Swordspoint. Readers familiar with the series will find a welcome homecoming while new fans will learn what makes Riverside a place they will want to visit again and again. Tremontaine follows Diane, Duchess Tremontaine, whose beauty is matched only by her cunning; Rafe Fenton, a handsome young scholar with more passion than sense; Ixkaab Balam, a tradeswoman from afar with skill for swords and secrets; and Micah, a gentle genius whose discoveries herald revolution. Sparks fly as these four lives intersect in a world where politics is everything, and outcasts are the tastemakers. Tread carefully, dear reader, and keep your wit as sharp as your steel.
What's Liz and Delia's favorite part?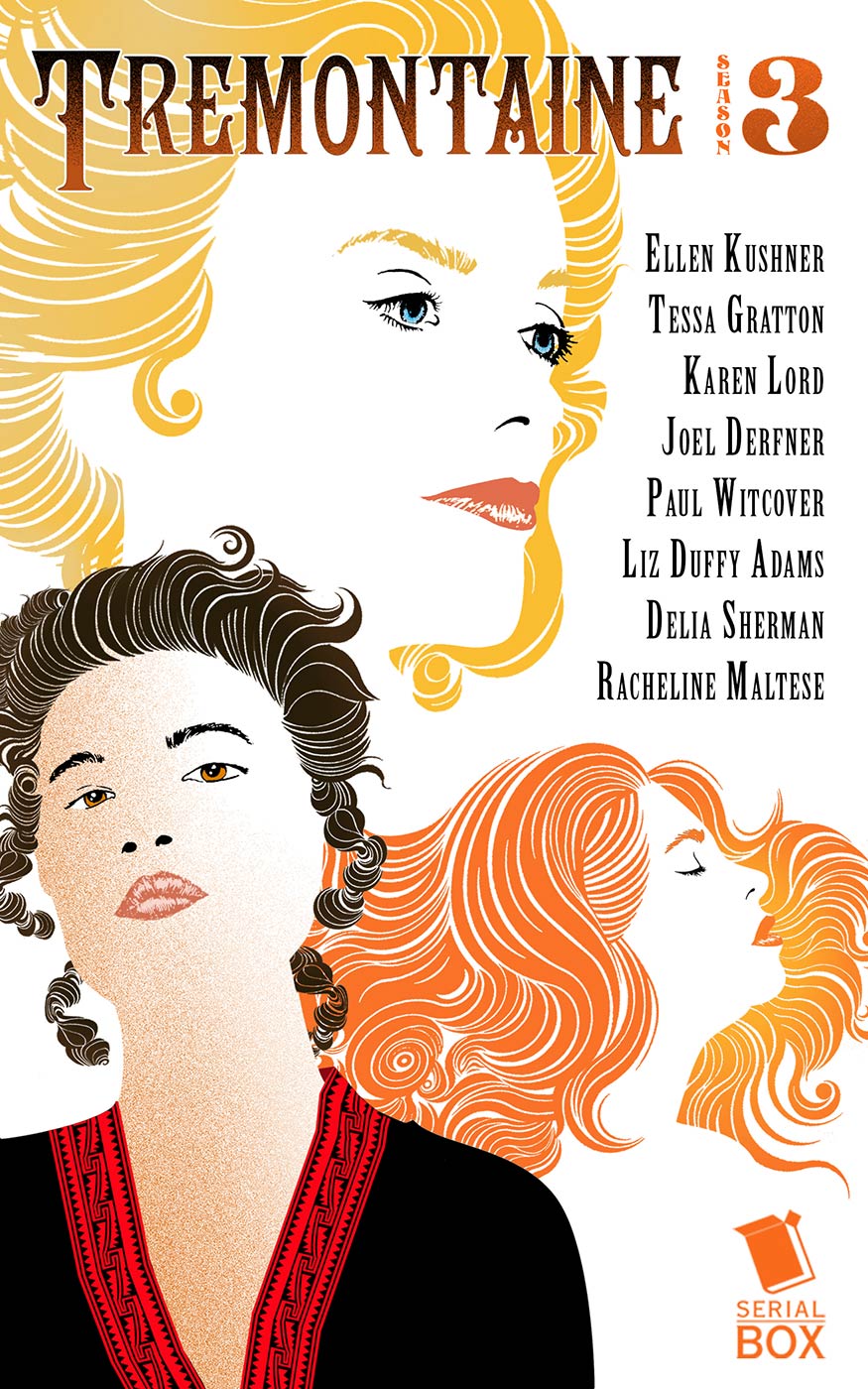 LIZ DUFFY ADAMS AND DELIA SHERMAN
When Ellen Kushner asked us to guest write an episode for Season Three of Tremontaine, we were delighted. After co-writing The Fall of the Kings with Ellen and editing Tremontaine's first season, Delia missed playing in that world with those characters. And the episode we ended up with—not entirely by accident—gave us an opportunity to call up echoes of the mystical nature/sex/sacrifice religion that had been a feature of The Fall of the Kings, and that was particularly exciting to Liz as well.
But most of all, we missed writing with each other. We'd worked together last year on the Serial Box series Whitehall, creating not only three novella-length episodes about the early years of Catherine of Braganza's marriage to Charles II of England, but also a creative partnership.
Collaboration is a lot of fun. Oh, you need ground rules and agreements on how you're going to go about it and some skill in negotiation and not getting too invested in a favorite scene or sentence. Like every other kind of writing, it's hard work. But it's also play.
Liz is a playwright, and creating Whitehall and co-writing those episode with Delia was her introduction to the world of not only serial fiction, but of fiction full-stop. Everybody knows that theater is a collaborative art, but it's also true that the writing part is almost always a solitary endeavor. However, Liz had her roots in the world of experimental theater, where her work was collaborative in every sense. That sort of experimental theater requires great trust, flexibility, and love of the process itself, in which everyone is writer/actor/director/designer, conceiving, creating, and performing the work as a creative cooperative. The idea of creating a collaborative piece of fiction, though a different proposition in a lot of ways, struck a chord for her.
So we each had some experience with the collaborative process. The question was, could we collaborate? We were friends; we loved each other's work: the odds were good. But really, we got awfully lucky. Because no matter how much you like and admire someone, you have no idea whether you can successfully or happily create together until you're in the thick of it. But we found ourselves working very well in harness. Our strengths were complementary; as for our weaknesses, well, two heads are genuinely better than one when trying to come up with a solution to a sticky plot problem.
The process of brainstorming story and structure, divvying up the drafting, and passing it all back and forth to edit and polish, turned out to be like the best sort of game: absorbing and tremendous fun. Liz's ear for dialogue brought our characters to life and her sense of dramatic structure provided the arc of the story. Delia's knack for physical description grounded the action. We divvied up the drafting: Because she'd been the editor for Season 1, Delia tackled the Kaab scene that begins the episode; because Liz fell in love with the drama and action of the hunting party, she fell headlong into the first draft there. Together we found our way through the subtle politics of the emotionally and technically complex card-playing scene that provides the episode's climax.
Even with both of us working together, however, we would have been lost without the expertise of the entire Tremontaine writing team. Whenever we had a question (and we had lots) we could fling out a question and be sure of a helpful answer. Both of us are used to writing real-world historical fiction, where facts must be checked through extensive Googling or trips to the library. With Tremontaine, all we had to do was go on Slack and the other writers would supply us with links to martial-arts videos, lists of Kinwiinik names, discussions of card games and character interactions and plot lines of which we, as guest writers, couldn't always remember the intricacies. Not to mention that details of plot and character changed as everyone worked on his or her own episode and had to be picked up and reflected both up and down the time stream.
It was complicated. It was, occasionally, frustrating. But finally, it was exhilarating and freeing to know that we were all, artistically, watching each other's backs, providing feedback, support, suggestions, corrections, and, most important of all, encouragement. The Tremontaine writing team in their glorious third season have developed a well-honed, hard-won, beautifully functioning collaborative process, and we reaped the benefits of it.
And that, without doubt, was our favorite bit in Season 3 of Tremontaine.
LINKS:
BIOS:
Liz Duffy Adams is a playwright whose work has been produced Off Broadway at Women's Project Theater, and at Magic Theater, Seattle Rep, and Humana Festival among other places. Publications include Dog Act in "Geek Theater: Anthology of Science Fiction and Fantasy Plays" (Underwords Press 2014) and Or, in "Best Plays of 2010" (Smith & Kraus); honors include a Lillian Hellman Award, Will Glickman Award, and New Dramatists residency. She created and co-wrote the historical serial fiction Whitehall for Serial Box. More at www.lizduffyadams.com.
Delia Sherman is the author of numerous short stories and novels for both adults and younger readers, situated somewhere along the spectrum of historical-fantastical-comical-romantic-feminist-sexually-diverse fiction. Her most recent projects—episodes of Whitehall and Tremontaine–have both been for Serial Box, in collaboration with Liz Duffy Adams.  She is or has been a teacher, an editor, a judge of literary awards, a member of literary foundation boards, a book store clerk, a gardener, a knitter, a cook, a traveler, and a flaming liberal.