My Favorite Bit: Erika Lewis talks about GAME OF SHADOWS
Erika Lewis is joining us today with her novel Game of Shadows. Here's the publisher's description:
A young man plagued by the ability to see ghosts races to save the mythological land of Tara from a terrible fate in Erika Lewis's stunning debut, Game of Shadows.

Thousands of years ago in Ireland, an ancient race fought a world-changing battle—and lost. Their land overrun, the Celtic gods and goddesses fled, while the mythical races and magical druids sailed to an uncharted continent, cloaked so mankind could never find it. This new homeland was named Tara.

In modern day Los Angeles, Ethan Makkai struggles with an overprotective mother who never lets him out of her sight, and a terrifying secret: he can see ghosts. Desperate for a taste of freedom, he leaves his apartment by himself for the first time—only to find his life changed forever. After being attacked by dive-bombing birds, he races home to find the place trashed and his mother gone.

With the help of a captain from Tara who has been secretly watching the Makkais for a long time, Ethan sets out to save his mother; a journey that leads him to the hidden lands, and straight into the arms of a vicious sorcerer who will stop at nothing until he controls Tara.With new-found allies including Christian, the cousin he never knew he had, and Lily, the sword-slinging healer who'd rather fight than mend bones, Ethan travels an arduous road—dodging imprisonment, battling beasts he thought only existed in nightmares, and accepting help from the beings he's always sought to avoid: ghosts. This L.A. teen must garner strength from his gift and embrace his destiny if he's going to save his mother, the fearless girl he's fallen for, and all the people of Tara.
What's Erika's favorite bit?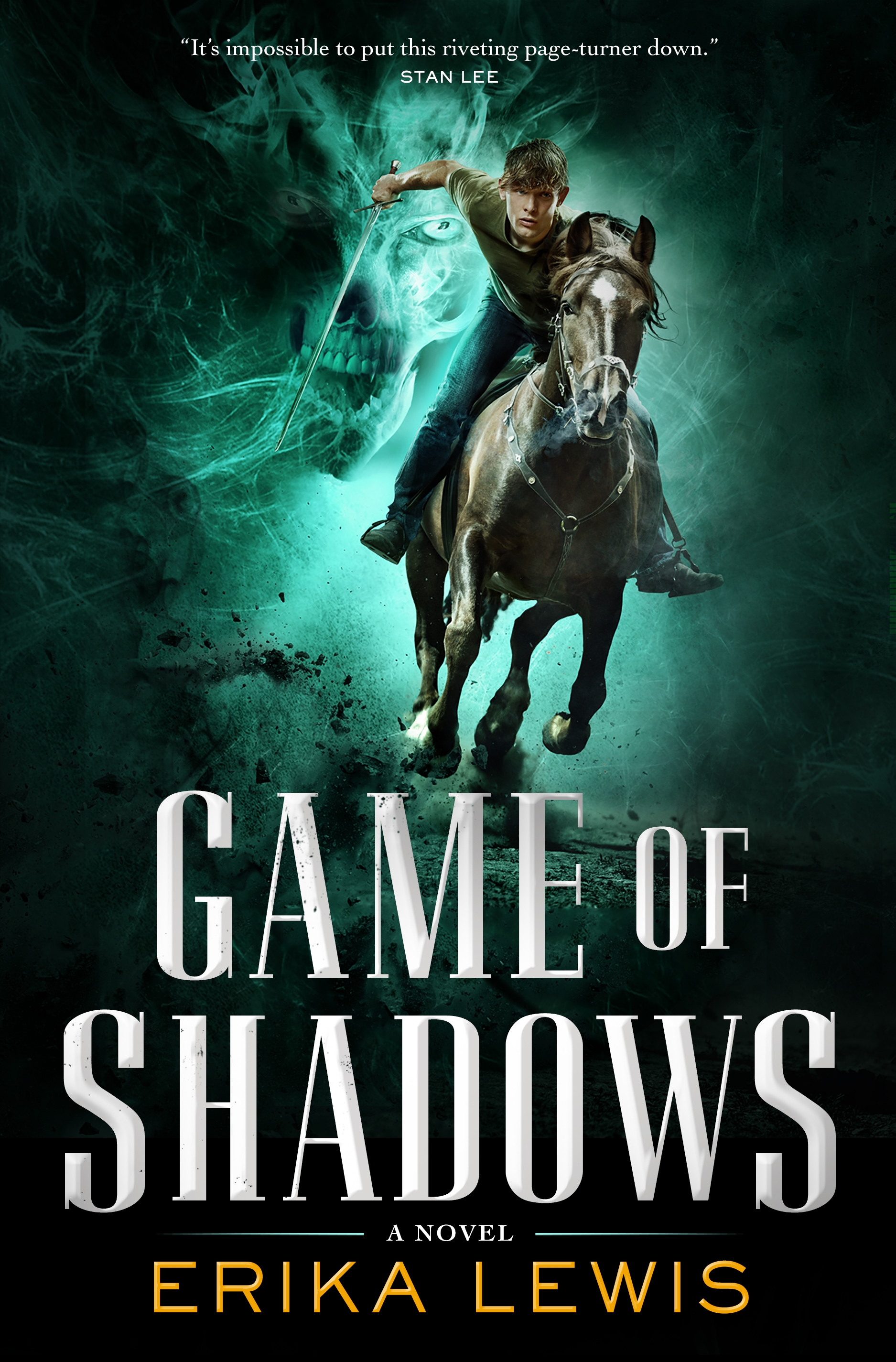 ERIKA LEWIS
Writing a fantasy novel set in a hidden continent filled with mythical Celtic races and magical Druids means world building. A lot of world building. But it also means putting my "real world" protagonist through some fantastically cruel, yet sadistically funny paces. Tempting fate every time Ethan has to get on a horse. He doesn't like them, and they don't like him. Stuck in the middle ages, Tara doesn't have a single modern amenity. Tarisian's seems to have ignored the technological march forward the rest of the world has taken. Although Ethan's accommodations are more luxurious, the fact that so many are trying to kill him pretty much negates that positive.  He doesn't spend a single night in his room until the end of the book.
They're many new faces, some human, some not. Some courageous and loyal, others scheming and dangerous, not that Ethan hadn't experienced those personality types in Los Angeles. On the contrary, his high school classmates could've been the stars of a highly rated reality show without having the producers having to feed them a single line! But then he meets Lily Niles, a gal best described in Ethan's own words, "fatally attractive."
From the moment they meet, she's literally trying to lop his head off with her sword. Ethan doesn't understand why she hates him so much. It usually takes a while for someone to build up that kind of animosity toward him, at least a few days! But is it animosity? Or something else?
You know that thing that happens when young adults realize that men and women speak different languages (for some of us it takes way much longer than that—raising hand.) A shocking truth that dawns on us as we find "the one," and try to date "the one." From the second Ethan and Lily accidently touch, tensions rise. Insults swing back and forth, but the attraction is there, and growing.
Writing the glorious battle scenes, sword lessons for Ethan when he realizes his heart and compassion get in the way of using it, and the reunion between folks I can't mention without spoilers…I loved writing all that. But it's these little moments, like the one below that make me smile.
Set up, Ethan and Lily are locked in the dungeon:
"Let's scour the cell. You go left. I'll go right.

They split up, venturing into the darkness in the rear. It was impossible to see anything. Ethan ran his hands along the wall, using it as a guide, touching everything he could reach, but the place was sealed shut. There wasn't so much as a loose brick.

"Lily?" Ethan called in the darkness.

"Right here," she answered, then whacked him in the face.

"Ooh," Ethan moaned. She'd hit him in the nose in the exact same place Alastair had head-butted him.

"I'm so sorry!" She reached out again, nearly poking him in the eye.

"Ow! I know you hate me, but honestly, there are better ways to finish me off!"

Without a word, Lily made her way back to the front of the cell, setting her back against the bars. Ethan came next to her, pinching his nose, hoping it wasn't bleeding.

"Why do you think I hate you?" Lily asked with a furrowed brow.

"The first time you saw me, you waved your sword in my face," Ethan said, "even after your father told you who I was."

Lily tried hard not to smile. "My father embarrassed me. To have him speak to me the way he did in front of you…of all people. I wanted to kill him for that. I took it out on you. I'm sorry."

The apology was completely unexpected, and Ethan wasn't sure what to say. His eyes met her, then his gaze drifted to her soft lips and his mouth watered. God, she's beautiful…Here they were, caged like animals in an abandoned zoo, and all he could think about was kissing her.

His eyes drifted back to hers and he found her staring at him with the same intensity he was at her. He contemplated giving in to the impulse. His mouth hovered mere inches from hers. His head dipped, her breath warming his cheeks, when a sharp warning chill ran up his spine, distracting him.
Oh yeah, smoochus-interruptus… ghosts have a very "chilling" effect after all. Don't worry, there's much more in store for Ethan and Lily than this. Will they kiss? Won't they kiss? Well, Lily is one strong-willed female who is used to taking what she wants!
LINKS:
BIO:
ERIKA LEWIS graduated from Vanderbilt University, and went on to earn an Advanced Certificate in Creative Writing from Stony Brook University. She has had a successful career in television production for the past fifteen years, working with Sony (V.I.P, Strong Medicine), with Fireworks Television (La Femme Nikita, Andromeda, Mutant X, Strange Days at Blake Holsey High), with Fox (On Air with Ryan Seacrest, Ambush Makeover) and with G4 (Attack of the Show, X-Play). Erika is the author of The 49th Key, currently running in Heavy Metal Magazine, with the trade out soon, and the recently released Firebrand with Legendary Comics. Game of Shadows is Erika's debut novel. Find out more at: http://www.erikalewis.com/